Spilling The Beans At Sony

By
.(JavaScript must be enabled to view this email address)
November 18, 2005
|
Share

Del.icio.us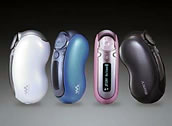 When thinking of a bean, the first thing that comes to my mind is a vegetable and the kidney beans I'd see in a nice hot bowl of Zippy's chili. But it's actually Sony that's making beans nowadays ... the new Walkman bean
, that is.
The Bean was one of the items featured at the recent Sony Expo held at the Ala Moana Hotel. (Also shown at the expo was the BRAVIA television series I recently wrote about.) Sony is working on expanding its line of Walkman digital music players, probably to compete with Apple's stronghold on the digital music player market with its iPods. However, Sony's new series of flash-based devices are a feast for the ears as well as the eyes.
The bright, colorful and compact Bean comes in coconut white and tropical ice blue for the 512 MB EW-E305 model
, and the 1 GB NW-307 version comes in black licorice and cotton candy pink especially for the girls. To completely match with the fun colors, all the Beans come with appropriate color-coordinated earbuds.
The Bean includes a bright one-line organic electro-luminescence (OEL) display, a five-way D pad controller with three buttons. The OEL's bright display makes it easy to view track and title information, and you can also view the time and date with the time/calendar function.
A key advantage the Bean has over any iPod is that it has an FM tuner, so you can listen to the radio as well. Unfortunately you cannot record any radio, but you can manually or automatically program up to 30 presets total. It plays MP3 and ATRAC3/3plus (Adaptive Transform Acoustic Coding -Sony's proprietary music coding) music files, and also supports WMA and WAV formats. It is compatible with Sony's Connect online music store and includes SonicStage software for music management.
Hence its name, the Bean is literally shaped like a bean, mostly resembling a kidney bean with its rounded edges with a slight bend in the middle. Although a neat little shape, I understand it's a small challenge to operate and handle. A convenient pop-up USB jack is built-into the Bean to allow you to plug right into your computer. A full battery charge provides up to 50 hours of continuous playback, and a quick 45-minute charge gives you an 80 percent charge. If you're really in a rush, a quick three-minute charge gives you three hours of listening time.
To get your own Walkman Bean, the 512 MB NW-E305 model costs about $130, and the 1GB NW-E307 model is about $180 at www.sony.com or at Shirokiya.
Fighting For America's Army.
When the U.S. Army released its game, America's Army, back in July 2002, I made it a top priority to get it. I have been playing that and the second release, America's Army: Special Forces, ever since. I'm proud to say that the very first time I went through the scenarios, I scored an expert marksmanship on the weapons qualification portion.
The best thing about America's Army is that it's free for your PC! It's been an excellent game over the past years, and now America's Army will be expanding into the console market. The U.S. Army, Ubisoft and Secret Level worked together to create America's Army: Rise of A Soldier
for the Xbox and PlayStation 2. The game allows you to create a soldier and take him through the adventures of an Army career from the first day of training. The intense single-player missions and high adrenaline multiplayer mode builds the skills of your soldier and advances him through his career from recruit all the way to Special Forces team leader. Unfortunately the skills you build up in your single player soldier will not apply to the soldier you use for online mode. You can play up to 15 other players at a time (16 total) online. In addition to that, you can do split-screen cooperative play with your buddy.
I had the opportunity to briefly play Rise of A Soldier while I was at the E3 (Electronic Entertainment Expo) in May, and from what I could tell, it is as good as the PC version. I just had to get used to playing the game with console controls instead of a mouse and keyboard. If you appreciate strategy over the mindless running and gunning action, you will definitely enjoy the gameplay. You use the strategy to build your experience and your skill level ranking.
America's Army was initially designed and developed to use online gameplay as a virtual portal to allow civilians to explore and learn about soldiering in the U.S. Army. Authentic weapons, equipment and combat situations come directly from U.S. Army subject matter experts. To create the realism in the game, the developers worked with various Green Berets and Stryker Brigade units to model their missions and equipment.
A free CD of the PC version of America's Army is available at any Army recruiting office or can be downloaded from www.americasarmy.com
America's Army: Rise of A Soldier for the Xbox, was released Nov. 15, and the PlayStation 2 version will come out Dec. 13 just in time for Christmas. It is rated T for Teen and is available for about $50 at GameStop or Toys 'n' Joys.
Most Recent Comment(s):