Stream Music With Aerielle's i2i

By
.(JavaScript must be enabled to view this email address)
July 23, 2008
|
Share

Del.icio.us
Another neat product I discovered at the Consumer Electronics Show (CES) was Aerielle's i2i Stream, a oneto-many wireless portable audio streaming device. This is the first solution that allows you to stream audio content from the media source of your choice. Intrigued by this, I spent the last couple of w e e k s playing with a pair of i2is.
If you're into sharing your music with headphones, you know there is no perfectly comfortable way to do it. It could be done with a Y-splitter, but even at that you'd be leaning into the person next to you, and if you're just sharing headphones, you'd be distracted by noises heard in your other ear that doesn't have a headphone. Avoiding all of the hassle, the i2i Stream device offers the capability of music sharing wirelessly up to 30 feet away (with its 2.4 GHz transceiver). You can share music off just about any music source - iPods, other MP3 players, speakers, computers, DVD players or basically any device that has a 3.5mm jack. "Whether it's friends hanging out and listening to a single iPod or the desire to stream music wire-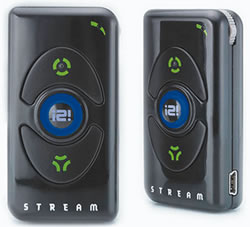 lessly to speakers in the home, the i2i Stream is the perfect solution," says Art Cohen, president and CEO of Aerielle. "We've created a way for friends to listen to music content without the hassle of sharing ear buds or swapping MP3 devices. With our oneto-many capability, friends and families can now easily share tunes wirelessly."
You can have up to three channels broadcasting within the 30-foot area, and no interference. The seven color codes on the i2i Stream indicate the frequency: red, orange, yellow, green, blue, purple and white.
For most of my testing, I had it set on the blue channel - it's just a nice, soothing color to look at. I also had it streaming music from my laptop downstairs while I peddled on my exercise bike upstairs. It was convenient to have that little thing to listen with.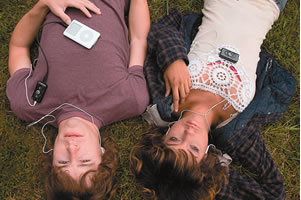 Although the i2i is tiny, it has a dial on it that controls the volume/mute and power. The two other buttons for transmit and receive are difficult to mix up. The battery will last you up to seven hours on one charge (via USB). Don't even worry about the "setup" - there's almost nothing to it. Just plug it in, push either the transmit or receive and you're ready to go.
I can't say that the i2i Stream is an absolute necessity, but if you're tired of sharing your headphones with your spouse/buddy, this could be ideal for you. The sound quality is good and surely holds up to the promised 30-foot range. While it was hooked up to my laptop, I was able to hear the music throughout my entire house, out in the yard and even walking down the street a few houses away.
The i2i Stream sells for $99.95 for a two pack (best choice) or $59.95 for a single unit. Find it at www.i2igear.com or www.amazon.com.
Most Recent Comment(s):