Sucking It Up And A Flashback

By
.(JavaScript must be enabled to view this email address)
October 07, 2005
|
Share

Del.icio.us

Ever since I bought a Dyson
vacuum cleaner, the animals in the house have made a new enemy I call "The Purple Monster." From the very first time I used my Dyson DC07
Animal vacuum, my cats hissed at it and darted outside to hide from it. Since that day, they've hated it and even vomit on it from time to time. Despite that, I'm pleased to see how much cat hair it picks up off the carpet.
The first time I vacuumed, the cat hair must have literally filled up half of the collection canister, and this is two minutes after I vacuumed with my old vacuum cleaner.
There are various Dyson
models available, but all of them have one thing in common. They all use Dyson
's patented Root Cyclone technology that enables them to maintain constant suction. Other vacuum cleaners clog and leave dust behind since they rely on a bag or filter to hold back the dust. This is what causes loss of suction and leaves all that dust and animal hair in your house.
Other bagless vacuums exist, however they're not the same. Believe me, I tried different ones over the years, and this is the best vacuum I ever owned. The Root Cyclone technology causes high volumes of air to spin extremely fast through individual cyclones, creating 100,000G of centrifugal force. All the dirt and debris are tossed to the outer edges of the collection canister. Sometimes I entertain myself by watching all that stuff collect, and the cat hair and feathers spin around the canister. It picks up so much stuff that I empty my canister probably once every two weeks.
Each Dyson
model may have its own special
feature, but for the most part each one comes with a quick-draw hose, automatic carpet height adjustment and a lifetime HEPA filter, which makes it perfect for allergy sufferers. The latest Dyson creation is The Ball. It's Dyson's solution to the still inefficiency of the back-and-forth movement that makes vacuuming a chore. The Ball technology replaces the traditional rigid two wheels on the base of the machine and allows you to twist and turn the vacuum effortlessly around furniture and low-lying obstacles.
The price ranges from $399.99 to $699.99. It all depends on what your needs are. It may seem a bit pricey for a vacuum cleaner, but it's definitely worth it. I'm hooked on my Dyson, and will never go back to using one with a bag.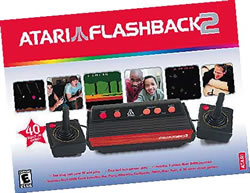 Flashback To The Past. As a child of the '80s, I remember my good ol' Atari Game Console. Growing up, I can recall playing Pac-Man, Centipede and Space Invaders, my favorite video games at the time. I think we still have the old Atari lying around somewhere collecting dust, but I won't trouble myself to go look for it since Atari launched its latest product.
Atari put its new Flashback 2 Classic Game Console on store shelves Oct. 4 . With plug-and-play games being all the rage these days, the Flashback 2 is here and is modeled after the Atari 2600. It's the ultimate recreation of the classic gaming experience. You may have seen the first Atari Flashback Classic Game Console that came out at the end of 2004. That one came with 20 built-in games, but the Flashback 2 has doubled that to 40 games. It includes the popular games such as Pong, Asteroids and Centipede, in addition to other arcade classics that have never before been released for the home console. The Flashback 2 features the same wood grain paneling and look of the Atari 2600, including two classic joysticks, vintage controls and the multi-player capability.
With both Flashback consoles, you can relive the 1980s video game revolution and go back in time with the retro games that started it all. Unlike some re-issues of retro games, the Flashback games are not emulated versions. Each one of the games' schematics was re-created to work together on a single chip.
If you still have your old Atari controllers, those are compatible with both Flashbacks. Even if you have the original Atari 2600 trackball or paddle controllers, those will also work. Likewise, the new Flashback joysticks will function with the vintage Atari consoles.
If you're geeky enough, there is a hackable chip available to install. You can solder on a cartridge port to play original old Atari games with your old cartridges. This hack also allows you to hardwire it to your PC to make it into a handheld device. On top of that, look for the two "secret games" you can unlock. The hint is to go to the main menu and do a combination of joystick movements to indicate a special year in Atari's history.
Sorry, that's all
I know about it, but if you fiddle with it, I'm sure you'll figure it out. The Atari Flashback is available for $30 at Best Buy or your nearest CompUSA. .(JavaScript must be enabled to view this email address)
Most Recent Comment(s):