Super Mario Is Back, And Better

By
.(JavaScript must be enabled to view this email address)
June 30, 2006
|
Share

Del.icio.us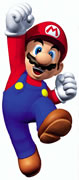 After being on store shelves for only 35 days, the New Super Mario Bros. from Nintendo sold more than half a million copies in the United States alone. That's a sell-rate of more than 20 per minute since the game came out on May 15. I guess that's understandable, considering how popular the original Super Mario Bros. was way back 20-plus years ago. When I was a kid, I would play that game endlessly and tirelessly, with or without Luigi (the player 2 character). It was my absolute favorite game at one time, and even my (non-tech-savvy) mom became addicted to it.
As Mario may be the most popular video game character in history, the New Super Mario Bros. (for the Nintendo DS) brings new adventures for him. The game boasts 3D graphics to accompany the classic 2D game-play. If you're a Mario fan as I am, it will definitely pique your interest. The game features eight new worlds, each filled with extra levels, hidden paths and multiple secrets. It's possible to complete the game without visiting every world, which means you'll have to track down various alternative exits and remember to visit every nook and cranny in the game, then play it over and over again if you so choose.
The game's storyline is that Bowser and Bowser Jr. have kidnapped Princess Peach again and only Mario can save her. The characters include Mario, Luigi and countless Mushroom Kingdom enemies (both old and new), Peach, Bowser and Bowser Jr. To make it through the game, you run, jump and battle your enemies (Goombas, Koopas and new foes) through multiple levels within each world. Every time you complete one world, you move onto the next, but not without defeating that world's boss first. To complete the entire game, you must survive the last fight in the final world.
With the improved Mario and Luigi, you have various powers, maneuvers and features that allow you to function more efficiently. You can do special jumps, such as increasingly high triple jumps and wall jumps. You can also perform ground pounds and high bounces off enemies. With Mario you can use power-ups with mushrooms (grow big), throw fireballs, Starmen (become invincible), Blue Shells (turn into a speedy blue Koopa shell) or other mushrooms that make you either tiny or super huge.
In addition to the main game there are a variety of 20+ minigames available to play by using the touch screen on your Nintendo DS. These include card or target-bopping-type games. You can challenge yourself or play against others on a DS local area network (with one to four players via DS Download Play).
New Super Mario Bros. is rated E for Everyone and you can buy it for about $35 at your nearest Gamestop or at www.compusa.com (unfortunately there is currently no CompUSA in-store availability).


Globe Dialer
Globe Dialer - Cheaper International Calls On Your Cell Phone. I have friends all over the world with whom I enjoy keeping in touch. Usually we'll e-mail back and forth, but it's not the same as a good ol' phone call. I have no landline or Voice Over Internet Protocol (VOIP) phone, so I survive solely on my cell phone. It is way too expensive to actually use my cell phone's minutes to call internationally, so I use a calling card. Yet it's such a hassle to dial that 1-800 number, then the country code, and the account number, etc., etc. By the time you listen to all those half-a-day-long lists of instructions and enter in numbers, you just don't feel like talking anymore.
If you're like me and make a heavy volume of international calls from your cell phone anyway, Globe Dialer, from Switch-Mobile, could save you money. The rates are cheaper than a land-line, your cell phone carrier or any calling card I've seen. The only thing it doesn't beat is a VOIP phone, but it's not like you can carry that around with you everywhere. Just to give you an example, a call to Hong Kong will cost me 12
cents/minute on my Cingular plan, 10 cents/minute on my calling card or 4 cents/minute on Globe Dialer.
Globe Dialer is a free software application you download to your phone that functions as a secondary phonebook in your cell phone for all of your international numbers. When you call an international number from the Globe Dialer, the call is routed automatically through the system. You'll still be using your cell phone carrier's domestic minutes, but the international component of the call will go through your Globe Dialer account. You will then be charged at the rate dependent on the country you're dialing. The trick is to call your friends or family at night or on weekends (if your cell phone plan offers free nights and weekends), then you won't really be using any cell phone minutes.
It's also easier to use than a regular calling card. Once you download the application to your phone, it works seamlessly since no PINs are necessary, and it uses caller ID to verify your phone number. If you're worried about putting new software on your phone, Globe Dialer does-n't change any configurations on your phone since it's a small Java application that works just as a ringtone or game would. Or, if you're old-fashioned, you can simply use one of the direct dial-in numbers (that works like a calling card) without downloading anything to your phone.
The Globe Dialer application works with Sony, Motorola, Nokia and Treo java-enabled phones. BlackBerry, Samsung and LG soon will be added to the list. It is only available to U.S. phone numbers, and you can use it on up to two cell phones, but you can't have two Globe Dialer accounts on one phone.
Check out Globe Dialer at www.globedialer.com for a complete rate list and download it to your cell phone for one free 10-minute test call.
Most Recent Comment(s):