T-Mobile@Home, Gates leaves Microsoft

By
.(JavaScript must be enabled to view this email address)
July 04, 2008
|
Share

Del.icio.us

Last week T-Mobile announced its T-Mobile @Home, a new service that enables you to make unlimited nationwide calls from your home phone for $10 per month. It's yet another alternative to a landline phone, and it allows you to keep your existing home phone number and add your phone line to your T-Mobile service.
"For years, the traditional landline companies have been great at consistently delivering one thing to their customers - a high monthly bill," says Robert Dotson, president and CEO, T-Mobile USA."T-Mobile is now delivering the best-priced home phone service in America for our existing and future customers. In addition, we are not only delivering the traditional features of a landline service, we are also including the innovative features consumers love in their more widely used mobile phones."
Almost exactly a year ago we saw T-Mobile's HotSpot @Home make its debut, but the difference between the two is, with this T-Mobile @Home service, you can use your regular touch-tone phone (corded or cordless) as opposed to a specialized phone with the HotSpot @Home service. It's designed for easy setup in a couple of minutes, not to mention that no special phone is required in comparison to VoIP (Voice Over Internet Protocol).
According to a 2007 Scarborough Research report, families spend an average of $65 per month on home phone service. For $10 per month, however, T-Mobile customers can add T-Mobile @Home service to a qualifying T-Mobile wireless plan and have unlimited nationwide long-distance calling, call waiting, caller ID, three-way conferencing, voicemail, call forwarding and other features. In addition, customers will have the opportunity to use features typically associated with wireless services such as CallerTunesTM (ringback tones) and port their existing home phone number so family and friends can continue to call them at the same familiar number.
The drawback is if you're not already a T-Mobile customer you'll have to switch over your cell phone service. But, if you're an existing T-Mobile customer and are paying extra for a landline phone at the moment, this is a great addition.
For non-T-Mobile customers, this might not be worth it.
To use the service you need a regular phone, an existing broadband Internet connection and the T-Mobile @Home HiPort
Wireless Router with Home Phone Connection. The router costs $49.99 from T-Mobile with a two-year service agreement and, of course, the $10 per month fee. Visit your nearest T-Mobile retail store or www.tmobileathome.com.

Bill Gates Exits Microsoft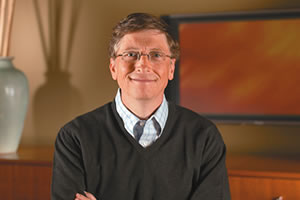 Just a little fact that you might want to know from the technology world: One of the richest men in the world, software genius Bill Gates, last week announced the final transition from his day-today role at Microsoft to full-time philanthropy with the Bill & Melinda Gates Foundation.
Gates will remain Microsoft's non-executive chairman and will still be involved in select projects based on direction from chief executive officer Steve Ballmer and the leadership team. Analysts credit him with changing software into a money-maker rather than just something for the hobbyists.
Most Recent Comment(s):