Taking Out Enemies With Yakuza

By
.(JavaScript must be enabled to view this email address)
September 22, 2006
|
Share

Del.icio.us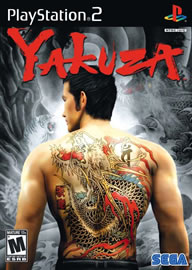 Yakuza
If you are a fan of Quentin Tarantino's Kill Bill movies, you will love Sega's newest game, Yakuza. Although it is considered an action/adventure game, its graphic content is definitely not for a young gamer. After the critically acclaimed Yakuza was a big hit in Japan at the end of last year, it was modified for a Western audience, and hit our store shelves earlier this month.
The game takes place in Japan, where honor and respect hold great importance, but there is an even higher regard for these traits within the organization feared by most: the Yakuza. You play a character named Kiryu Kazuma (aka "The Dragon of the Dojima Family"), a former rising star in the Yakuza community, and you're rebuilding your life after serving a 10-year prison term for murder. You suddenly find yourself caught in a spiraling underworld plot involving a mysterious girl named Haruka and a missing $100 million. You, as Kazuma, stay alive by using your fists and wits and unravel the web of truth and lies that surrounds the Yakuza.
Yakuza has its own new fighting engine that was specifically created for the game. It allows you to string together attack combos to take out multiple enemies simultaneously in street brawls or grab and use in-game objects to defeat opponents. You can add strength, stamina and skills through combat and build your heat gauge with perfect combos to feel the rush of pure fighting. You have the ability to build skills and attributes by gaining experience, accumulating weapons and items, engaging in multiple side missions, interrogating and bribing informants, and gambling.
Award-winning Japanese novelist Seishu Hase and producer Toshihiro Nagoshi created Yakuza's storyline that spans more than a dozen intricately detailed chapters packed with complex characters. You can freely explore the forbidden nightlife of the Yakuza district of Tokyo - just about everything from the neon-lit streets and nightclubs to the little shops. Along the way there are more than 300 weapons and items you can find. You pick up weapons from the environment, such as a golf club, crowbar, chair - basically anything that's around you. These items can be retrieved, exchanged and stored in item boxes you find around town.
Yakuza's seasoned Hollywood (voice) cast includes Michael Rosenbaum (Smallville) who voices Nishiki, a ruthless Yakuza member who has turned on his friend Kazuma. Michael Madsen (Reservoir Dogs, Sin City) voices Shimano, a physically imposing Yakuza boss who relies on brutality to achieve his goals. Eliza Dushku (Buffy The Vampire Slayer, Bring It On) is Yumi, who grew up with Kazuma and Nishiki in an orphanage, and is at the center of the mystery. Rachel Leigh Cook (She's All That) plays Reina, owner of the Serena Hostess Bar, and Mark Hamill (Star Wars, Batman: New Times) voices an insane Majima, a violent Yakuza boss with a twisted sense of humor.
Overall,Yakuza portrays modern Japan's organized crime families, and it makes you feel like you're in the middle of a Japanese gangster movie while you play the stone-cold Kazuma, committed to honoring his boss (aka oyabun) and his brothers in crime. It seems like you're more watching the story unfold, as opposed to heavy gameplay. The load times in between scenes can be somewhat distracting as they're lengthy sometimes, but when you do have a chance to fight, those hand-to-hand combat sequences are nice.
Yakuza is one-player and rated M for Mature (ages 17+). Available exclusively for the PlayStation2, it'll cost you $49.99 at your nearest CompUSA (or www.compusa.com). Note again that this game contains strong language and vivid scenes, and is absolutely not appropriate for keiki.
Most Recent Comment(s):