Tech Expo For Consumers At Design Center

By
.(JavaScript must be enabled to view this email address)
September 07, 2007
|
Share

Del.icio.us
2007 Home Entertainment & Tech Expo
Mark this on your calendar for next weekend – a tech expo is coming to town on September 14 – 15, 12 – 6 p.m.
The Honolulu Design Center is presenting the Second Annual Home Entertainment and Tech Expo. This is the first major technology event that we'll see here, and probably the closest thing we'll see similar to the huge Consumer Electronics Expo held every year in Las Vegas.
Next week at the Honolulu Design Center, you'll see the latest technologies in home entertainment, including SMART Homes, digital cameras, digital TV, mp3 players, computers, video games and more. On top of that, free seminars will be available for you to chat with the specialists. This event will definitely be geared to you, the consumer.
At the door, tickets will be $2, but if you pre-register, it's free. Check out www.homeentertainmentandtechexpo.com to pre-register or call 237-3673 for any questions.
iTunes To Stop Selling NBC Shows
I was a little disappointed to hear Apple's latest announcement last week – the iTunes Store will stop selling NBC television shows for the next season!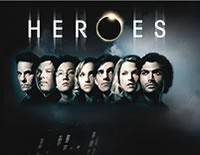 iTunes will stop selling NBC TV shows for the next season
That's a bummer since NBC's Heroes is one of my favorites. I have all the Heroes episodes from the first season on my iPod, and it would have been nice to have the next season too.
This decision is not Apple's fault, and came after NBC decided not to renew its agreement with iTunes after Apple refused to pay more than double the wholesale price for each NBC episode. This would have resulted in us consumers paying $4.99 per episode as opposed to the current $1.99.
I respect that decision, since I definitely would not pay no $5 for one TV show! "We are disappointed to see NBC leave iTunes because we would not agree to their dramatic price increase," said Eddy Cue, Apple's vice president of iTunes. "We hope they will change their minds and offer their TV shows to the tens of millions of iTunes customers," he added.
I think NBC is shooting themselves in the foot a little since it supplied iTunes with three of its 10 best selling TV shows last season. That accounted for 30 percent of iTunes TV show sales. Despite this dispute with NBC, the other big guys – ABC, CBS, FOX, the CW and fifty other cable networks are signed up to still sell TV shows at the $1.99 rate. Anything can change, so we'll see what happens.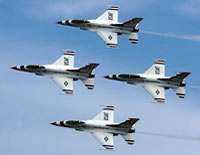 Air Force Thunderbirds will perform over Waikiki Sept. 15
A little side note close to my heart – also next weekend, the Air Force's Thunderbirds team will have their demonstration off the shores of Waikiki on Saturday, September 15 at 2:30 p.m. Seating and narration will be at Ft. DeRussy. All of next week is Air Force Week in Honolulu. The Air Force is celebrating its 60th birthday this year (September 18, 1947), and the events kicked off last Saturday, September 1. To see the rest of the events, check out www.pacaf.af.mil/library/airforceweekhonolulu.
Most Recent Comment(s):