Techie Christmas gifts part2

By
.(JavaScript must be enabled to view this email address)
December 05, 2008
|
Share

Del.icio.us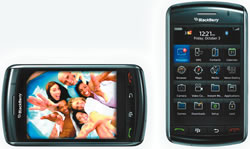 If you aren't broke from Black Friday shopping, here's the rest of my top Christmas gift picks for the techie in your life (in no particular order):
* Blackberry Storm. A couple of weeks ago Verizon Wireless released the BlackBerry Storm (Model 9530) into the market. This is BlackBerry's first touch-screen phone and features a "clickable" touch screen similar to the iPhone - the difference is that you'll feel the screen being pushed and released instead of just hearing a click when you touch the screen.
If you already use a BlackBerry, the familiar common navigation keys (phone, menu and escape) are there along with support for multi-touches, tapping, sliding, and the ability to highlight, scroll, pan and zoom for navigation. It also has an accelerometer so your screen can rotate back and forth between landscape and portrait views.
This is a great "iPhone alternative" and sells for $199.99 (after a $50 mail-in rebate) at your nearest Verizon Wireless store or online at http://www.verizonwireless.com. Note this is the price with a two-year agreement. For more information see http://www.verizonwireless.com/storm.
* Rock Band 2. Time flew by since the first Rock Band came out more than a year ago, but already the sequel, Rock Band 2, hit the shelves in September (only 11 months after its predecessor). This is a great game to play at a party, and a perfect gift for the music lover in your life.
Eighty-four songs are included on the game disk and you can download many more, including 20 for free. As with the first Rock Band, you can create and customize your characters, choose your difficulty level as you sing, drum or jam on the guitar.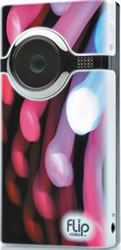 Rock Band 2 is rated T for Teen and available for the PlayStation 2 and 3, Xbox 360, and Nintendo Wii (Dec. 22). Pricing varies from $49.99 to $189.99, depending on platform. Visit http://www.rockband2.com for more information.
* Flip Mino HD. You may remember a story I did a few months back on Pure Digital's Flip Mino ultra-compact video camera. Since then, the company came out with a High-Definition (HD) version - the Flip MinoHD. This is the world's smallest HD video camera.
The MinoHD builds on the success of the Flip Video and holds up to an hour of HD video with its 4GB of internal storage. Ideal for your YouTube page (or other video sharing on your social networks), this camera is the only custom-designable camcorder. It has a 1.5-inch anti-glare LCD screen, a resolution of 720p, weighs 3.3 ounces and has a digital zoom with one-touch recording.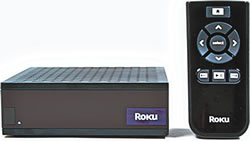 It retails for $229.99 and is available in black as well as your custom design at Amazon (http://www.amazon.com), Best Buy (http://www.bestbuy.com) or http://www.theflip.com. * Roku. Earlier this year Netflix announced the Roku Player that instantly streams movies to your TV. This is one of the greatest gifts you could give someone who loves to watch movies. This little box gives you instant access to more than 12,000 movies and TV shows. The video quality is good as long as you have a decent Internet connection.
The player is $99.99 and the user requires the minimum of the $8.99/month plan to qualify. How it works: Add the movies into your Netflix queue online, and then you immediately see it on your Roku player. See http://www.roku.com/netflixplayer for more information.
Note: If you have an Xbox 360, you can stream your Netflix movies from there as well.
Most Recent Comment(s):