The Advantages Of New Hulu Plus

By
.(JavaScript must be enabled to view this email address)
July 14, 2010
|
Share

Del.icio.us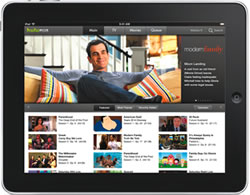 Hulu recently launched Hulu Plus, the first ad-supported subscription service to offer full current season runs of hit TV programs from ABC, FOX and NBC across multiple Web-connected devices in HD. Hulu Plus builds on the 100-plus content providers to bring you a huge offering of TV shows (current and classic).
"We're thrilled to begin sharing this revolutionary new service with subscribers," says Jason Kilar, Hulu CEO. "Hulu Plus is the first subscription service that offers consumers a wide array of today's top, current TV series on all four screens, in HD. With Hulu Plus, now your favorite TV shows love you back."
As a Hulu Plus subscriber, not only will you be able to watch your shows off the Internet on your computers in 720p high definition, but you can view them on your iPhone, iPod touch, iPad, select Samsung TVs, and Blu-ray players. Soon Hulu Plus will be available for your Xbox 360 and PS3.
I have Hulu Plus running on my MacBook Pro and iPad, and both look great. The streaming quality looks just as good as Netflix. I can see the improvement of this Plus service over the 480p quality from the regular Hulu.com. So far I haven't encountered any problems with it. Other than the resolution quality, another big difference between regular Hulu and Hulu Plus is the amount of content you can view. Hulu Plus lets you go way back to all seasons of a show. What does-n't change between the two are the commercials. You'll still see the same amount of commercials, but it's no biggie because those are minimal anyway.
Hulu Plus is still in beta, and it's not for everyone. It's catered more to those of you who want to catch up on your TV or view all the episodes of the most popular shows from today and the past decade. Some of the shows include The Office, The X Files, Glee, The Simpsons and even the Mary Tyler Moore Show. It seems the movie selection is limited, and you're probably better off with Netflix for that.
Right now it's available for $9.99/month as a preview, and subscriptions are offered by invitation only. To request an invite, visit hulu.com/plus. Even without an invite you can download a free Hulu Plus app for your iPhone/iPod touch/iPad to test it out.
Most Recent Comment(s):