The Advent Of A Million Bucks

By
.(JavaScript must be enabled to view this email address)
June 25, 2005
|
Share

Del.icio.us
I now have a million dollar reason to play a video game. For the first time, a company is offering one million buckaroos for a video game contest, and it's gotten me quite motivated to spend more quality time with my Xbox
.
The Advent Rising
"Race To Save Humanity" contest is offering a grand prize of $1,000,000 to those who find the hidden "A" icon within the game. A new icon is dropped into the game once a week via Xbox Live. Majesco Entertainment, maker of Advent Rising, provides a new clue each week to find the icon over the contest's six-week period. Other prizes available are one year Xbox Live subscriptions, SoBe drinks and products, and other cash denomination prizes. Only one lucky winner will receive the million dollars.
Majesco made a smart business move doing this contest. It's created quite a buzz in the media, and since it will run for six weeks, it'll keep gamers involved with it for at least that long and generate more sales. Advent Rising is also the first of a trilogy, so getting players involved in this first one is important for the game's awareness for what comes after.
In Advent Rising, you play the game through the eyes of Giddeon Wyeth, a space pilot assigned to accompany an ambassador to an alien ship to make first contact. These aliens view humans as gods, but they actually came to warn the human race about another alien race called the Seekers. The Seekers' mission is to eliminate all human life. You go through the game with all sorts of futuristic weapons and vehicles similar to other thirdperson shooter games, such as Halo/Halo 2, while you battle the Seekers. The graphics are good, and you don't have to worry too much about targeting with its easy-to-use auto-targeting feature.
Advent Rising is available exclusively on the Xbox and you can only participate in the contest with Xbox Live. Speciallymarked packages of Advent Rising come with a free twomonth trial of Xbox Live, so that will cover you for the contest if you don't want to pay full-pop for the $50 a year Xbox Live subscription. It's rated T for Teen and available at your nearest Toys n'Joys or Toyriffic store for about $50. For more information about Advent Rising and the contest, check out www.adventtrilogy.com.
I don't make any claims that Advent Rising is the greatest game in the world, and it's certainly no comparison to the quality of Halo or Halo 2, but if you want to try for the million dollars, it could pay off.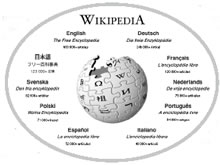 Wikipedia — The World At Your Fingertips
I remember many years ago in elementary school and even more recently, in college, having to spend hours and hours at the library doing research with those huge clunky encyclopedias that I could sometimes barely lift. Boy, things have come a long way since technology and the Internet have progressed.
All these advancements haven't made the infamous Encyclopedia Brittanica or World Book go out of business. They're still around, but there's something even better now, and it's free. It's called Wikipedia and it's the best free online encyclopedia I've seen.
From first-hand experiences, I can tell you that Wikipedia is great! It's a free encyclopedia that is constantly in the works by collaborative efforts from people around the world. It was created in 2001 in English, but is now available in about 100 languages. Its name wiki was inspired by our Hawaiian word "wiki wiki," meaning quick or informal. The site's term "wiki," means that anyone can edit articles with its custom MediaWiki software.
Editing is highly encouraged, and you can write your own article if you're compelled to do so. Be sure to add Wikipedia to your bookmarks or favorites page on your Internet browser, or if you have Apple's OSX Tiger, make sure Wikipedia is one of your widgets.
You can still use the online versions of Encyclopedia Brittanica or World Book, but you have to pay an average of $50 a year for each. Other free online encyclopedias include www.encyclopedia.com, www.1911encyclopedia.org or www.thefreedictionary.com, but the amount of information available on these doesn't even add up to Wikipedia's 600,000 plus available articles. Just to give you an idea, my self-test for all these online encyclopedias was typing in my bird's genre, "Senegal Parrot." None of them came up with definitions for it except for the Wikipedia. That's pretty impressive.
Go wiki wiki to the Wikipedia community at www.wikipedia.org to do your own research or add your nuggets of information.
.(JavaScript must be enabled to view this email address)
www.click-chick.com
Most Recent Comment(s):
Commenting is not available in this weblog entry.