The Apple Latest And Greatest

By
.(JavaScript must be enabled to view this email address)
January 23, 2008
|
Share

Del.icio.us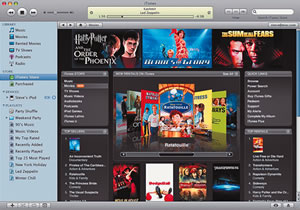 iTunes Movies
After surviving the madness of the Consumer Electronics Show (CES) in Las Vegas, as I write this I'm in San Francisco and just kicked off Macworld 2008 with my first live Steve Jobs (CEO of Apple) keynote speech. The whole experience was filled with excitement - from waking up at 4:30 a.m., waiting in line for hours while chatting with other Apple geeks from around the world, to the keynote itself. Jobs definitely has a fresh speaking style that holds your attention.
He kicked it off by saying that OS X Leopard (Apple's current operating system) sold 5 million copies and is the most-successful operating system release in Apple's history. Jobs went on to announce Apple's latest and greatest:
Time Capsule. A backup appliance that automatically and wirelessly backs up everything on one or more Macs running Leopard. It combines the latest wireless 802.11n technology (fully functional as a Wi-Fi base station) with a server-grade hard disk in one small package.
You plug it in and set up an automatic wireless backup for every Mac in your home. It supports a wireless network of up to 50 users and lets you set security restrictions (i.e. Internet access limits for children's computers). Prices are $299 for the 500GB model and $499 for the 1TB. The product will be shipped in February, but you can pre-order from www.apple.com.

Time Capsule
iTunes Movie Rentals. With the new iTunes 7.6, available as a free download, this update lets you rent movies instead of having to purchase them. All the major movie studios are participating in this new service including 20th Century Fox, The Walt Disney Studios, Warner Bros. Paramount, Universal Studios Home Entertainment, Sony Pictures Entertainment, Metro-Goldwyn-Mayer (MGM), Lionsgate and New Line Cinema.
Movies are viewable on your computer, iPod or TV (via Apple TV), and available in High Definition (HD). Prices are $2.99 for library titles (HD $3.99), $3.99 for new releases (HD $4.99). You have up to 30 days to start watching your movie, but once you begin, you have 24 hours to finish it (and watch it multiple times within that day). By the end of February there will be 1,000-plus titles, 100 of which will be in HD, and movies will be available 30 days after DVD release.
iPhone/iPod Touch Software Upgrade. This update will make your icons customizable, allowing you to add new icons and move them around for both iPhone and iPod Touch. iPhone's additions will let you find your location automatically using the redesigned Maps application, text message multiple people in one message, create web clips of your favorite websites, customize your home screen and watch movies from the new iTunes movie rental service. For the iPod Touch, you'll receive five added applications - Mail, Maps, Stocks, Weather and Notes.
The update is free for iPhone users, but is $19.99 for the iPod Touch (both downloadable from iTunes).
New Apple TV. Use this to view all your iTunes movies (including rentals), pictures, pod-casts, YouTube videos, browse iTunes and more. With the new Apple TV you no longer need a computer to hook it up to. The price has been reduced to $229 at your nearest Apple Store or www.apple.com.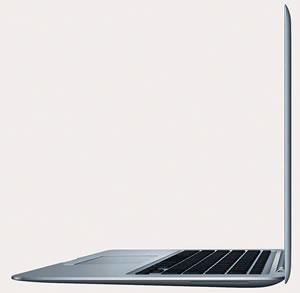 Mac Book Air
MacBook Air. Jobs concluded his speech with the announcement of the MacBook Air, the world's thinnest notebook computer. It measures in at 0.16 at its thinnest point, and its maximum height is 0.76 inches. The display is 13.3 inches, and it comes with a 1.6 GHz or 1.8 GHz Intel Core 2 Duo processor and a 80GB 1.8-inch hard drive or an optional 64GB durable solid state drive (no moving parts).
Additionally, it comes with a built-in iSight video camera, Airport Extreme 802.11n for wireless networking, one USB 2.0 port, one headphone port and a multi-touch TrackPad for support of advanced gestures similar to the iPhone (i.e. tap, scroll, pinch, rotate and swipe). This will be in your nearest Apple Store (or pre-order at www.apple.com) later this month for $1,799 or $3,098 (with the solid state drive).
Jobs wrapped the whole thing up by saying, "And that was just in the first two weeks of 2008 ... we've got 50 more weeks to go." That could possibly have been a hint of something, so I'm excited to see what else comes out.
Most Recent Comment(s):