The Blu-ray Way To Play Films

By
.(JavaScript must be enabled to view this email address)
April 28, 2006
|
Share

Del.icio.us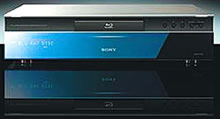 Blu-ray
While I was at my aunt's house for a family gathering a couple weeks ago, my cousins brought over a DVD for their kids to watch. The only problem is that my aunt had only a VHS tape player and no DVD player. It's a good thing my cousins toted along a portable DVD player. My aunt commented that even the portable DVD player would be too behind the times for me. I guess that will be true once I'm able to acquire Blu-Ray very soon.
No, Blu-ray isn't some new high-tech laser weapon or something. It's a new format that will probably replace DVDs someday. Discriminating high-definition (HD) fans will definitely notice the difference. If you've ever seen HD video on an HDTV, then you know what I'm talking about. The picture is incredibly sharp, and the colors are vivid. HD offers five times the amount of detail compared to the quality of standard-definition (SD), which is what our DVDs today use. Blu-ray discs offer up to 50GB of storage capacity (compared to a typical 4.7 GB DVD) and enable playback, recording and rewriting of HD in all of the HD resolutions up to the highest 1,080 pixels, in addition to supporting HD audio formats.
You will be able to watch Bluray discs on Sony's BDP-S1 Disc Player. It is designed to deliver 1,920x1,080 pixel output, supports various high-quality video codecs and will still be able to play your DVDs (including MP3 audio files and JPEG images stored on DVDs). The VAIO RC300 desktop is the first Blu-ray disc enabled desktop computer. It will be capable of
playing and writing Blu-ray content. The BD read and write rate on its optical drive is 2x. For these recordable discs, Sony plans to charge $20 for the 25GB BD-R (write once) or $25 for the BDRE (rewriteable). The 50GB versions will be $48 (BD-R) and $60 (BD-RE).
The Blu-ray format has received backing from seven of the eight major movie studios as a successor to today's DVD format. Warner, Paramount, Fox, Disney, Sony, MGM and Lionsgate announced more than 100 titles for the initial lineup of Blu-ray discs. The initial release will consist of recent and classic titles including Batman Begins,
Desperado, Fantastic Four, Fifth Element, Hero, Ice Age, Kill Bill, Lethal Weapon, Mission Impossible, Ocean's Twelve, Pirates of the Caribbean, Reservoir Dogs, Robocop and The Matrix. Blu-ray discs and DVD will likely co-exist for quite some time until HDTVs become more widespread.
The BDP-S1 player will run you about $1,000 and the VAIO
RC desktop about $2,300. Both will be available in the summer and can be pre-ordered at www.sonystyle.com. For more information on Blu-ray disc products, go to www.sony.com/bd.

Surfing The Web Anonymously. Just as I'm annoyed at pesky telemarketing calls, I get even more perturbed with the tons of junk e-mail I receive on a daily basis. I usually end up deleting 200-300 junk e-mails from my inbox every day! Why am I receiving all these seemingly tempting e-mails that say I'll receive a free cell phone or $250 worth of Starbucks if I fill out a survey? They're all from online companies out to get me - my personal information, that is.
Obtaining personal information and knowing your habits is a big online business. If you're registered online somewhere, chances are the website you registered with has already sold your information. That's money in their pocket, but not to fret, there are ways around it. You can choose not to register with any sites on the web, but unfortunately that means not receiving the content you were requesting. Whether you registered or not, did you know web-sites can still track you and collect your information through cookies? They might not necessarily be able to gather specific information, but if this bothers you, you can surf anonymously.
There are several solutions out there, but the most effective one I found is Anonymizer's Anonymous Surfing. The software will definitely slow your Internet browsing down, but will keep your IP address and identity hidden by redirecting your web traffic through Anonymizer's secure servers. It will also protect you from inadvertently visiting websites that are known to phish, pharm or have spyware. In case you're not familiar with the terms, phishing lures an unsuspecting e-mail recipient into clicking a link that appears to be from their bank to update account information. Pharming is similar to phishing, but more dangerous because it will direct you to a fraudulent website even if you type the correct website into your browser. When you have Anonymous Surfing active, your host file server is never accessed, so if the site is corrupted, you will still access your intended web-site safely.
Anonymous Surfing also protects you on the wireless side. If you're out and about searching for a free hotspot somewhere, you can be tricked into connecting to a tainted hotspot posing as a legitimate wi-fi provider. Once you connect to the tainted hotspot, the culprit can watch all of your online activities and steal your information. If you're using the Anonymous Surfing software, you will be routed through the secure servers and bypass the fraudulent hotspot.
You can use a free version of Anonymous Surfing by going to www.anonymizer.com and entering in your selected website in the top right corner. Or download a free seven-day trial. You'll benefit the most with a full version at $29.99 for a one-year subscription (or $49.99 for a two-year subscription).
Unfortunately Anonymous Surfing is only available for Windows, but for you Mac users, instead try Proxify, a free downloadable widget from Apple's website (www.apple.com). Click on the Mac OSX tab, then the Widgets tab - it's hard to miss.
Most Recent Comment(s):