The Building Blocks Of ROBLOX

By
.(JavaScript must be enabled to view this email address)
June 25, 2008
|
Share

Del.icio.us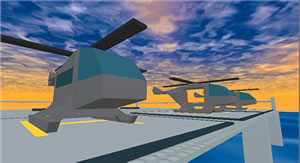 As a kid I would play with LEGO all the time, but I didn't have enough pieces to make huge LEGO cities or anything really big. For kids these days, there's ROBLOX. The simplest way I would describe it: it's NOT LEGO, but it sure appears to be virtual LEGO. It's basically a digital world-building game that uses generic plastic building blocks, mixed in with avatar (character) chat, 3D environments and physics.
"We created ROBLOX because it was the video game we always wanted to play (as a kid) but could never find," said David Baszucki, co-founder and CEO of ROBLOX Corporation. "We were all building-toy maniacs as kids - Erector, LEGO, Mechano - you name it!"
ROBLOX initially came out a couple years ago, but I learned about it recently from my husband's little cousins Matthew and Michael. They're two extremely smart young boys who are the perfect picture of what a ROBLOX user is - they spend most of their spare time building up their ROBLOX empires. One of them was actually blocked from playing ROBLOX for a few days because he called someone a "noob" (aka newbie, new user) in a chat. I know that doesn't sound too bad, but that just goes to show how strict the website's monitoring is.
That goes to show that kids of all ages can safely interact, create and have fun with ROBLOX's online virtual playground. There are many social websites out there for children, but what makes ROBLOX different is that it feeds their hunger for learning and creativity, on top of satisfying social entertainment needs. Some of the beneficial subjects include math, physics, mechanical engineering, computer programming, logic and game theory. These will all integrate into the gameplay without a second thought. ROBLOX is continually working with schools and educators to better understand how these benefits can enhance the learning process.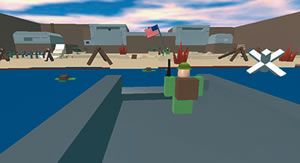 Everything is designed and constructed by the members of the ROBLOX community. Once you register, you are given an unlimited supply of building pieces to design and build anything imaginable - buildings, airplanes, giant pinball machines, whatever you can think of! You can choose to play and create alone or receive help from others. Your avatar is completely customizable and I've seen some pretty creative ones out there. As others can help you with your projects, you can assist with theirs, while you wander through their worlds.
As time goes on, you are recognized by your participation and earn rewards for your creations based on the quality and popularity. What you receive ranges from specialty badges to ROBUX currency that you can redeem in the ROBLOX catalog for avatar accessories or premium construction materials.
At the moment there's an Action Adventure Movie Contest for an Action Adventure ROBLOX video (30 seconds to three minutes long). ROBLOX is looking for a clip that shows thrills, chills and a good story - basically anything that shows the characters getting into trouble and then getting themselves out or being saved. It can be an original or a scene from a real movie.
The deadline for this is Sunday, June 29, 3 p.m. (HST). Log onto blog.roblox.com for more information.
You will need a PC (or PC emulator if using a Mac) to play ROBLOX, and the standard membership is free. If you're planning on building more extensive creations, you'll want to join the Builders Club for $5.95 per month. It also removes all the online adds when you login.
Visit www.roblox.com to create your own character and start building your own virtual 3D world.
Most Recent Comment(s):