The Digital Roller Coaster

By
.(JavaScript must be enabled to view this email address)
March 19, 2005
|
Share

Del.icio.us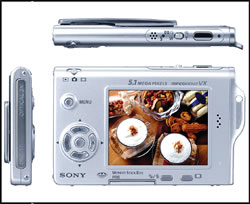 Sony's Cyber-shot DSC-T7, about the size
of a credit card, is fully featured
Finding a good digital camera can be confusing with all the many choices out there. Acouple of years ago I was faced with replacing my digital camera while on vacation after it flew off a roller coaster. How did that happen?! Well, my camera was in a bag strapped to my waist, the snap came undone, and it flew off me with great force. The roller coaster was moving so fast that I didn't even feel the bag come off. Once the ride was over, we spent about half an hour frantically searching for the bag, knowing my wallet and camera were both in there. Thankfully no one ran off with it. All the contents were still there, but my poor camera was toast.
We ended up going to the nearest Best Buy and purchased a Sony Cyber-shot DSC-T1, which I absolutely love. It's an awesome camera with its very compact size, big screen and 5 Megapixel resolution. Since then Sony has come out with the second generation DSC-T3 and soon we'll see the DSC-T7, which I'm eyeing, and trying to figure out a way to get. Maybe I'll have to ride another roller coaster.
Sony's Cyber-shot DSC-T7 is Sony's thinnest, fully featured camera at only a third of an inch thick, and about the size of a credit card. Afew of its features include 5.1 Megapixel resolution, a Carl Zeiss Vario-Tessar lens with 3x Optical Zoom, a large LCD screen to make pictureviewing easy, and it uses Memory Stick Pro. The DSCT7 will be available in May for approximately $500 at http://www.sony.com or at any other participating retailers.
Growing up around SLR cameras, my other favorite is the Canon EOS Digital Rebel. I had an old analog version of the Canon EOS Rebel, but unfortunately, film is out and a hassle to deal with after being digitally spoiled. Canon has a wide variety of the Digital Rebels, the most popular being the 300D and XT. The Canon EOS Digital Rebel 300D and XT both include a built-in flash and the option of manual or automatic focus. The difference between the two is that the XT is the latest version with 8.2 Megapixel resolution, Compact Flash Type II and it's slightly more expensive. The 300D has a 6.3 Megapixel resolution and retails on average for about $700 and the XT for about $1,000.
After all my camera searching was done, my lesson learned is don't take a camera with you on a roller coaster, unless you want a new one.
Digital Printing. Living in the digital age, film processing is quickly becoming a thing of the past. We are faced with how to output digital pictures into actual paper photographs. There are so many printers to choose from and so many places you can go to have your photos printed. Where do we begin?
For starters, high on my recommendation list for inkjet photo printers is the Epson R300. It's what I use when I just need to print one or two 4-by- 6 photos here and there. The really cool thing about this printer is that it can print directly onto CDs and DVDs. The color quality is good, and you can also insert your memory stick or Compact Flash cards directly into the printer to edit/print. It uses six ink cartridges to ensure color quality and good skin tones, it's compatible with both PC and Mac, and you can print wirelessly. This printer goes for $179 at the Apple Store in Ala Moana Center or at http://www.epson.com.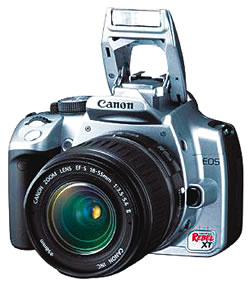 Canon's EOS Digital Rebel XT retails at about $1,000

A second choice, if you don't need to print on CDs and DVDs, would be the HP Deskjet 6540. Its toaster oven shape and mirrored sides makes it interesting to look at, and the frontmounted controls makes it easy to use. As with the Epson, the Deskjet 6540 uses six ink cartridges, is compatible with PC and Mac, and allows for wireless printing.
If you need to print large pictures that won't fit inside your printer or have a lot to print from a vacation or special occasion, log onto http://www.walmart.com. You can conveniently upload all your pictures, place an order, then pickup your 4-by-6 photos in an hour from your nearest Wal- Mart for 19 cents print. In addition, you can share those same photos with your family and friends and they can order and pickup photos the same way. Walmart.com also has a wide variety of other photo services such as cards, mugs, calendars, magnets, posters, photo books, T-shirts and more.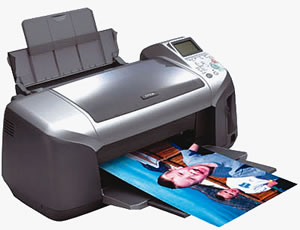 The Epson R300 can print directly onto CDs and DVDs
Also, Ritz Camera, offers the same photo service and products as Wal-Mart. If you log onto http://www.ritzpix.com, you can upload your pictures for free and pick up your 4- by-6 prints an hour later from a Ritz Camera store near you: Ala Moana Center (943-6391) or at the Sheraton Moana Surfrider Hotel (922-4340). If you don't have time to make down to one of the stores, you can also have your items mailed to you.
.(JavaScript must be enabled to view this email address)
Most Recent Comment(s):
Commenting is not available in this weblog entry.