The diNovo Edge Mac Edition

By
.(JavaScript must be enabled to view this email address)
August 15, 2008
|
Share

Del.icio.us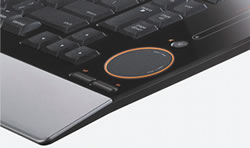 For you Mac users out there looking for a new keyboard, you may want to hold out for Logitech's high-end diNovo Edge Mac Edition. It has a nice artistic look with its black color and thin design, made of a Plexiglas frame with sharp angles, soft-orange backlighting, and aluminum palm rest with an anodized-silver finish that looks good with any Mac.
"We're truly delighted to offer discerning Mac enthusiasts our highest-quality in keyboard design and performance," says Denis Pavillard, vice president of product marketing for Logitech's keyboards and desktops. "From the piano-black finish to its built-in TouchDiscTM touch pad, the diNovo Edge can make it a pleasure for you to type, control music or launch your favorite applications."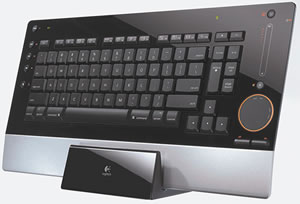 The original diNovo Media diNovo marked the launch of Logitech's award-winning diNovo line, and this newest Mac product is extremely thin at only half an inch thick. It's very similar to the Windows-based original, and judging from the pictures, it comes with Mac-specific keys for one-touch access to Mail, Safari browser and iTunes. You'll see the ones you've come to know such as the Command, Option, Control, disk eject and a power button.
Additionally, the TouchDisc allows you to scroll and navigate from your keyboard by moving your finger up/down or left/right to control the mouse cursor on your computer's screen. It also allows you to scroll through an open document.
The keyboard features PerfectStroke, Logitech's key system that is designed to create "longer key travel" - 3.2 mm compared to a typical 2.2 mm-sized keyboard, meaning optimal travel for your fingers to make. Micro-scissors distribute force evenly across the key surfaces, even if you strike the edge of the key, the keystroke still feels the same.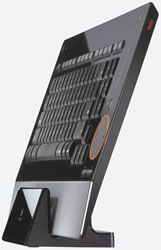 Logitech's diNovo Edge Mac Edition comes with a charging base (four hours for a full charge that lasts up to one month, 10 minutes for one hour). Unlike its predecessor, this one does not come with a USB dongle for Bluetooth connectivity, as it connects to your Mac via your integrated Bluetooth software. It will be available later this month for $159.99 - see www.logtiech.com for additional information, and chances are you'll be able to purchase it from www.amazon.com.
Blu-ray Revisited
Some Blu-ray info for your thoughts - no surprises to me, but a recent study done by ABI Research found that consumers are reluctant to buy a Blu-ray player in the near future. Twenty-three percent of the respondents indicated they are likely to purchase one, but not until 2009.
I can understand why. Folks are waiting for the prices to drop, but personally I would still recommend a Sony PlayStation 3 as the best Blu-ray player option available.
ABI Research principal analyst Steve Wilson says that much of the lukewarm response can be attributed to consumers' perceptions about the value proposition that Blu-ray delivers.
"Consumers were happy to embrace standard DVD when that format arrived because the improvement in quality over VHS videotapes was dramatic," Wilson says. "Standard DVD didn't require the purchase of a new TV either. In contrast, while half of the respondents to our survey rated Blu-ray's quality as 'much better' than standard DVD, another 40 percent termed it only 'somewhat better,' and most are very satisfied with the performance of their current DVD players."
Most Recent Comment(s):