The First Look At Sony's PS3

By
.(JavaScript must be enabled to view this email address)
November 01, 2006
|
Share

Del.icio.us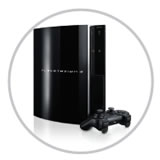 Thanks to the folks at Sony Hawaii, last week I was able to see, touch and play with a fully functional PlayStation 3. I can proudly say that I'm the first journalist in Hawaii to see and play with an actual working Sony PlayStation 3 (PS3). Indeed I saw it at the Electronic Entertainment Expo (E3) in 2005 behind a plexiglass case, and at E3 2006 this year I was able to play a developmental version of it.
Physical Attributes.
The PS3 is a very attractive package. It is black, glossy and physically heavier than I thought it would be. It weighs about 11 pounds, and measures about 1 foot long. The power button and eject buttons are a touch-sensitive panel. Memory stick and SD card slots are located under a panel on the front of the machine.
Main Specifications:
CPU: Cell Broadband Engine Main Memory: 256MB XDR Main RAM
Hard Drive: 2.5-inch Serial ATA (20 or 60 GB HDD)
Main Input / Output: USB 2.0 (4 ports), MemoryStick / SD / CompactFlash
Wireless Communication: IEEE 802.11 b/g (w/60 GB HDD PS3 only)
Screen Size: 480i, 480p, 720p, 1080i, 1080p
Disk Drive: Blu-ray / DVD / CD (read-only)
Processor. The PS3 is powered by the much-talked-about Cell processor, developed by Sony, with help from IBM and Toshiba. Cell is a revolutionary microprocessor that leapfrogs the performance of existing processors, giving the PS3 a supercomputer-like power. You can watch up to 12 streams of high-definition (HD) simultaneously with the Cell, and it won't even blink. This little chip gives game developers the freedom to create games closer to actual intelligence instead of artificial intelligence, giving them the ability to accurately mimic human reasoning and movement. In case you're wondering, the chip's clock speed is 3.2 GHz.
Controller. The PS3 comes with one wireless controller. The controller looks almost identical to the PS2's except it's wireless (using Blue-tooth 2.0).
There are red light indicators that show you what player number you are (1-4), somewhat similar to the Xbox 360's controller. Sony's Dual Shock feature was taken away to accommodate the new motion sensor which allows you to control on-screen action by physically moving the joystick in six different directions.
Games. The question everyone keeps asking me: "What games will come out with the PS3?" Well, below is the list of games that will be available on or close to the Nov. 17 (North America) launch date. Sadly, this list doesn't include one of my favorites from E3, Heavenly Sword.
Resistance: Fall of Man (Sony Computer Entertainment of America)
NBA 07 (Sony Computer Entertainment of America)
Genji: Days of the Blade (Sony Computer Entertainment of America)
Blazing Angels Squadrons of WWII (Ubisoft)
Call of Duty 3 (Activision) EA Sports Fight Night Round 3 (Electronic Arts)
The Elder Scrolls IV: Oblivion (Bethesda Softworks)
F.E.A.R. (Vivendi Universal Games)
Full Auto 2: Battlelines (Sega) Madden NFL 07 (Electronic Arts)
MARVEL: ULTIMATE ALLIANCE (Activision)
Mobile Suit Gundam: CROSS-FIRE (NAMCO BANDAI Games)
NBA 2K7 (2K Sports)
Need For Speed Carbon (Electronic Arts)
NHL 2K7 (2K Sports)
RIDGE RACER 7 (NAMCO BANDAI Games)
Sonic the Hedgehog (Sega) Tiger Woods PGA Tour 07 (Electronic Arts)
Tom Clancy's Rainbow Six Vegas (Ubisoft)
Tony Hawk's Project 8 (Activision)
Untold Legends Dark Kingdom (Sony Online Entertainment)
Gameplay. Another frequently asked question lately: "So what's better . . . PS3 or Xbox 360?" Unfortunately no games were actually available for my PS3 playtime last week, so I can't accurately answer that. I do remember from E3 that the quality of the games I played were impressive, but not having the PS3 and 360 side-by-side, I cannot make a fair assessment. The PS3 is backwards compatible with your PS1 and PS2. There will be a memory card adapter available to port your old games to your PS3 hard drive.
Blu-ray. Since no games were available for me to play, Blu-ray Discs were used to demo the PS3 to me. A Blu-ray Disc is a next-generation media format that delivers the ultimate high-definition entertainment experience. It can hold up to 50GB of data on a dual-layer disc (that's five times the storage of a traditional DVD). Blu-ray has 7.1 channel surround sound and true lossless audio, so every note, sound, explosion, etc. can be heard as if you were right there.
I saw the difference between a Blu-ray Disc and a DVD, while watching it on a 1080p Sony 40-inch Bravia TV. The distinction between the two was phenomenal, as you could see all the super fine details on the screen (i.e. lips, eyes) with the Blu-ray, but on the DVD those things were hardly noticeable. As a special Blu-ray promotion, Sony will be packaging the movie Talladega Nights with the first 500,000 PS3s to hit the market.
Features. If you've ever played with a PlayStation (PSP) you'll already know how to use a PS3 since the menus look almost identical. It's easy to navigate through so you don't have to worry about "learning" it, even if you're a beginner. With future software updates you will even be able to access your PS3's hard drive remotely with your PSP. You'll have the capability to stream content wirelessly over to your PSP for movies, games, pictures, etc.
The new PlayStation Network gives you the opportunity to play games with and talk to your friends. It's similar to Microsoft's Xbox Live, only this is free. You can also plug in use a USB keyboard to ease your chats. Additionally, the PlayStation Network will offer game downloads and PS1 games that are playable on your PSP.
Where To Buy/How Much Will It Cost? Two other questions that I've been receiving often: "How much will it cost?" and "Where can I buy one?" It will cost $499 for the model with the 20 GB hard drive and $599 for the 60 GB. The price is high either way, but even if you're just looking for a Blu-ray player, you'll save money (a regular Bluray player averages $1,000). Either way, personally, I think it's worth it to pay the extra $100 to enjoy the extra drive space. My guess is that PS3's initial availability will be very limited. You will eventually be able to find one at GameStop (www.gamestop.com), Wal-Mart (www.walmart.com), Circuit City (www.circuitcity.com) or Best Buy (www.bestbuy.com).
For a special preview of the PS3 and Sony's other new products, head on down to the 2007 Sony Expo on Nov. 3 and 4 at the Ala Moana Hotel, Hibiscus Ballroom, 10 a.m.-9 p.m. My understanding is that there will actually be at least three games available to play with the PS3 on display there. Admission is free, and the first 100 visitors will receive Sony Dollars good toward the purchase of Sony products. You'll have a chance to win prizes, including a PS3 of your own, or a 40-inch Sony BRAVIA LCD Flat Panel TV!
Most Recent Comment(s):