The First Xbox Steering Wheel

By
.(JavaScript must be enabled to view this email address)
October 13, 2006
|
Share

Del.icio.us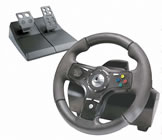 DriveFX
You may remember my recently reviewing Test Drive Unlimited, the Xbox 360 driving game that takes place on Oahu. I find myself still playing that game frequently, but I've been using the regular Xbox 360 controller.
Although I thoroughly enjoy the game anyway, I always thought it would be a little better with an actual steering wheel along with real gas and brake pedals. With that in mind, I was able to test out Logitech's DriveFX Wheel, designed specially for the Xbox 360.
The DriveFX is making my Test Drive Unlimited gameplay much easier and realistic as I drive around on Oahu's virtual roads. Setting up the device is as easy as taking it out of the box, removing all the plastic bags and ties, then plugging it into the electrical outlet and into your Xbox 360. At first I tried to play it with the wheel on my lap and the gas/ break pedals on the floor, but that didn't work. That made me crash into everything and other cars since there was no stability. It was the wheel, I promise! No really, once I secured it to the desk with its built-in clamps, my driving improved. As long as your tabletop is less than three inches thick, the clamps will work. If your surface is more than that, sorry, you're out of luck.
The wheel features Logitech's axial-feedback technology, including motors built into the base of the steering column. The feedback translates the commands of the game into axial forces that make the steering wheel respond realistically to your car's dynamics. The built-in motors distribute the vibration throughout the entire wheel and casing to give you a sensory feel similar to an actual car. The feedback takes some getting used to, but felt natural after a while. Though to slightly offset this, I set the wheel's controller settings to the maximum. This also gave me the best control of the wheel.
Additionally, the DriveFX was innovatively designed with a gas-assisted injection molding process so the wheel was created in one single durable piece with no seams during manufacturing. This makes the wheel rigid and sturdy.
The all-black wheel features a 10-inch diameter with rubber grips to give you a secure grip and your virtual driving experience more natural and comfortable. The responsive brake and gas pedals (mounted on a weighted surface) make the whole drive well rounded.
The Logitech DriveFX Wheel is Logitech's first licensed wheel for the Xbox 360 video game and entertainment system from Microsoft. You can find it for about $100 at your nearest CompUSA (www.compusa.com), Best Buy (www.bestbuy.com) or GameStop (www.gamestop.com). It comes with a one year limited warranty.
Most Recent Comment(s):