The Free 'Office' Alternative

By
.(JavaScript must be enabled to view this email address)
December 22, 2006
|
Share

Del.icio.us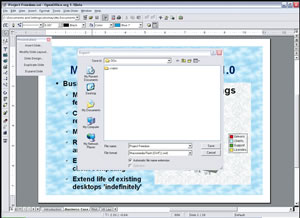 Many of you have been asking me about alternatives to Microsoft Office, and if there are any cheap or free ones attainable out there. The answer is yes! So, especially if you're broke from Christmas shopping, spare yourself paying Microsoft the $500 because OpenOffice.org is absolutely free, and it can do just about everything the regular Microsoft Office can.
OpenOffice.org is an office suite of applications that is installable on Microsoft Windows, Mac OS X, Linux and Solaris. OpenOffice.org is part of a project that has been in the works for many years, but OpenOffice.org 2.0 was presented to the community to download in late 2005, and a recent 2.1 upgrade became available this month. It comes in 36 languages (with more on the way), and it banishes software segregation and isolation with its ease of use and compatibility with Microsoft and other software.
When you open it up, it's not like Microsoft Office where you actually launch a specific program (i.e. Word, Excel, PowerPoint). It comes up as one application in Open Office.org, and you choose one to use. The suite offers a database module Base, to complement the word processor Writer. Calc the spreadsheet manager is similar to Excel and Impress is PowerPoint-like. There's also a Draw program to doodle in, or more sensibly, put your graphics in to edit. These are all the programs you need to feel productive in an office environment. Not only that, but when you create your documents, you have the option to save them in different formats, including the standard Microsoft way. OpenOffice.org was released with the aim of reducing the dominant market share of Microsoft Office, and providing a free, open and high-quality alternative. That it definitely does. I can sit here all day and use it as I would the regular Microsoft applications, and it doesn't bother me. While it doesn't look exactly identical to the Microsoft applications, it's close enough for me. All the tools that I would use in a typical day are there.
You probably wonder how something this good can be free. What makes this possible is the fact that it's part of an ongoing project and built by a community of people and companies. It is offered to you under the GNU Lesser General Public License (LGPL), which gives it a free software license. Sun Microsystems is the primary sponsor and contributor. In addition, Novell, Red Hat, Debian, Propylon, Intel, independent programmers, translators, writers and marketers have made this project possible for you to benefit from. It is becoming the choice of businesses and governments around the world, with more than 49 million-plus downloads since the project's inception.
"OpenOffice.org is on a path toward being the most popular office suite the world has ever seen, providing the users with safety, choice and an opportunity to participate in one of the broadest community efforts the Internet has ever seen," says Jonathan Schwartz, president and COO of Sun Microsystems. "As a member of that community, I'd like to offer my heartiest congratulations."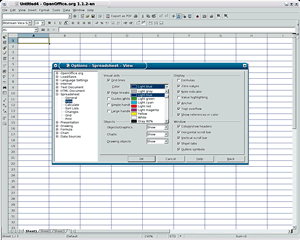 If you would like to throw in your own two cents, you can contribute to this project by reporting valuable feedback about bugs you find in the software, or make a donation (via PayPal or credit card) to help keep this going.
You probably don't have to guess what the link is to find the program, but just in case you didn't already catch it, go to www.openoffice.org.
If you're using Mac OS X, be advised you have to download Neo Office 1.2.2 (which is what I did) to experience Open Office. org. Neo Office is the Mac OS X office suite based on Open Office.org, only with the look you would expect from a typical Macintosh application. Since OpenOffice.org is primarily geared toward Windows and Unix user-interfaces, NeoOffice has been successful at making it look just like a Mac application. Download this at www.neooffice.org.
Most Recent Comment(s):