The Fun Of Digital Scrapbooking

By
.(JavaScript must be enabled to view this email address)
November 05, 2008
|
Share

Del.icio.us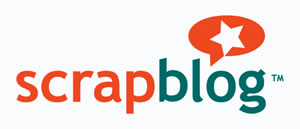 I was never big into making scrapbooks. I always thought they looked nice, but it was something I didn't have time to do. But then a good friend of mine started doing digital scrap-booking with Scrapblog and couldn't stop raving about it. So I finally had to see what it was all about.
Scrapblog, initially launched last year, is a free, user-friendly, web-based application that gives you the ability to share your creations online. The interface provides creative leeway with hundreds of professionally designed layouts and thousands of creative elements you can drag and drop into your project. With that in mind, just over a month ago Scrapblog announced the added offering of its custom printing service, so now your digital scrapbooks can be turned into a "real scrap-book."
"Scrapblog enhances the experience of creating a book or a card online by giving people full creative freedom," says Carlos Garcia, CEO and founder of Scrapblog. "Unlike cookie-cutter templates, layouts in Scrapblog can be changed and mixed to create truly personalized keepsakes."
You don't need to make any unnecessary downloads and include photos, videos, audio, text, etc. from different sources - they can be seam-lessly pulled from Flickr, Photobucket, Picasa, Smugmug, Webshots, Facebook or YouTube. Your pages are stored online, not on your computer. I find that helpful because I can access the pages from any Internet-connected computer.
Once your pages are created, it's your decision whether to make your Scrapblog public or private (to be shared with just a few friends). Another nice thing is that it supports direct publishing to Blogger, Typepad, Wordpress, Flickr, MySpace and Facebook.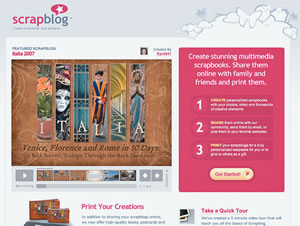 "As the most requested feature from our users, printing is a natural extension of the boundless creativity made possible with Scrapblog," says Scrapblog community manager Rebecca Saylor. "With Christmas quickly approaching, Scrapblog books make perfect gifts for those who want to give and receive something personal and unique, while Scrapblog greeting cards and postcards are great for creating custom invitations, greeting and thank-you cards." Visit http://www.scrapblog.com to start your own scrapbook.

Postalz
Another partial-digital scrap-booking alternative is Postalz.
This service has been out for awhile, and it generates very customizable digital postcards to play with. Personally, Postalz is my iCard replacement after Apple sadly did away with those.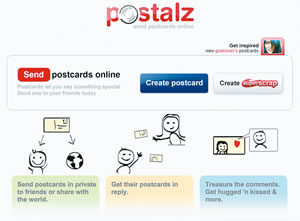 Postalz allows you to create and send postcards as you would an e-mail. Using Web 2.0 technology, you can customize these postcards with text, art, photos or video. Affix digital stamps or frames to these postcards to reflect your mood or the content of your card. There are a variety of frames and cutouts to choose from. You also can use your pictures from Flickr and embed these postcards on your Facebook, Bebo, MySpace, Orkut, Friendster, hi5, Blogger or Xanga.
Check out http://www.postalz.com to start sending your online postcards. Note: If you're a fellow Mac user, it seems to be a little flaky in the Safari browser, so I suggest using Firefox.
Most Recent Comment(s):