The future of portable power; Keepon for kids

By
.(JavaScript must be enabled to view this email address)
September 28, 2007
|
Share

Del.icio.us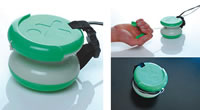 You may remember me writing about the $100 laptop from the One Laptop Per Child Project (OLPC) a little over a year ago. That little computer will be one of the first things that will be powered by Potenco's hand-held Pull-Cord Generator (PCG).
The PCG is very portable with its 2.5-by-3.5-inch height/diameter and 14-ounce weight. It highly resembles a yo-yo, and you pull the string on it repeatedly to receive the power you need to run all your toys for hours. Basically one pull will let you listen to one song on your iPod. A whole minute of constant pulling will give you three hours on your iPod shuffle, one hour on an LED flashlight or about 20 minutes on your cell phone. If anything, all the pulling will give you a good little calorie-burn workout for your arms.
Thinking about the PCG with a green hat, it will be great in places where people have limited or no access to electricity. Even for us city folk this would be useful, especially out in the boonies when you're camping. You can power water purifiers, GPS devices, PDAs, rechargeable batteries and more. It's definitely meant for rugged use since it is water-, dust- and drop-resistant too! Keep in mind at its peak, you'll squeeze about 20 watts from it. Not bad!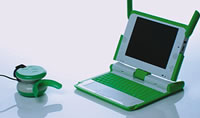 Unfortunately, you cannot purchase one of these pull-cord generators yet, but check out Potenco's website: www.potenco.com
Going back to the OLPC Project mentioned earlier, if you are still interested in participating and missed the first round, an XO laptop is now $200. This money will fund a laptop that will be sent to a child in a developing nation. If you wait for a little while, however, beginning Nov. 12 the Give 1 Get 1 program launches.
With this program, $399 will buy you two laptops. One will be sent to an overseas child, and second one to your child. This is probably the closest thing you can do to purchase one for yourself too. Log onto www.xogiving.org for more information.

Keepon The BeatBot. When I saw this little guy, I just had to write a little something about him - the BeatBot named Keepon. He's so cute and sort of reminds me of the Nintendo character Pikachu, the famous yellow character with the pointed ears you see in the Pokemon anime and video games. But I guess realistically, he more looks like a yellow snowman.
Keepon is a small yellow robot with four motors, rubber skin, cameras for eyes and a microphone for a nose. He is designed to interact with children (or children at heart) by communicating attention and emotion. He'll respond to any visual or aural stimuli, such as waving your hand in front of him, or just singing some music at him. When you interact with him, it's almost as if you're dancing with him since he has four degrees of freedom. He can rock side to side or bob up and down (up to 15 mm).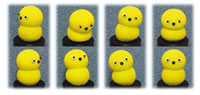 Keepon was developed by Hideki Kozima from the National Institute of Information Communications Technology (NICT) in Japan, and is currently being used for research on social development and communication.
Another robot in the works is Roillo. He has similar traits to Keepon, but will be a lower cost.
Unfortunately you cannot purchase Keepon or Roillo yet, but in the meantime, check out the website for more information and catch a video of Keepon in action: http://beatbots.org
Most Recent Comment(s):