The Human Touch experience

By
.(JavaScript must be enabled to view this email address)
July 11, 2008
|
Share

Del.icio.us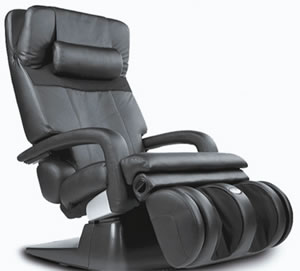 I just finished a long run a few hours ago and my back is crying out for a massage. I'm thinking of the wonderful massage chair I sat in at this year's Consumer Electronics Show (CES) - the Human TouchTM HT-7450 Zero-Gravity Massage Chair. You may remember that I wrote about the Sanyo HEC-DR7700K zero-gravity chair from last year's CES 2007, but this Human Touch chair is on a whole other level.
It took Human Touch four years to develop the HT-7450, and it was an honoree for the Consumer Electronics Association's Innovations 2008 Design and Engineering Award (Furniture Category).
It was recognized for its multi-patented massage technology, such as the Acupoint Detection System that scans the entire length of your back and creates a map of key pressure points to target during your massage. I didn't believe that actually happens until I sat in the chair and felt it focus on my lower back.
"With over 20 years of experience in developing products that make people feel better, we are thrilled that the Consumer Electronics Association has recognized the chair that we consider to be the pinnacle of the Human Touch experience," says Rich Jorgensen, CMO of Human Touch. "After years of development, we are excited to offer the first massage chair that effectively counteracts the everyday effects that gravity has on the human body's muscles and joints. It is gratifying to be recognized for a product that uses advanced massage technology to make people's lives better."
This massage chair is the first to incorporate the latest advances in massage and back-care technology to counteract back and muscle pain. Once you're seated, the chair's back, seat and footrest synchronously recline to situate the body in a position that reduces physical strain. The Acupoint Detection System then proceeds to do its scan, and next thing you know, you're in the middle of a nice chair massage. Key pressure points along the sciatic nerve are focused on with pulsating seat massagers that pinpoint your problem areas.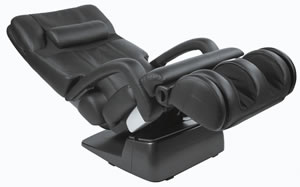 In addition, the chair includes a tension-relieving eight-point pulsating seat massage system, a built-in adjustable foot and calf massager, dual-lumbar back heat, neck-contoured comfort pillow and a memory foam seat cushion that gives you similar sensations that NASA astronauts have as they venture into space.
As the HT-7450 reclines horizontally, its back, seat and footrest synchronously move to place your body in a virtually weightless condition - the ideal position for an effective massage.
This "neutral posture" is recommended by doctors to relieve your spine of the pressure from standing, walking and sitting. In fact, my chiropractor is always telling me that it's better to sit in a recliner as opposed to a regular couch. Since I do not have a recliner (I always thought they were too bulky for my living room), this is the perfect excuse to buy one now, isn't it?
What I enjoy about the HT-7450 in comparison to a "regular" massage chair is it's not bulky and still does a wonderful job on your back. It's almost as small as a normal-sized chair and won't take up a great deal of your floor space. One of these would fit nicely right next to my couch, or even in the bedroom next to the bed. Not to mention it's made out of nice top-grain, corrected, Aniline-dyed leather, giving it a modern look.
The Human Touch HT-7450 Zero-Gravity Massage Chair comes in black or a dark chocolate color and will cost you a slightly steep $3,999, but well worth it if you can afford it - www.vitalityweb.com (free shipping to Hawaii). Visit www.humantouch.com for additional information.
Most Recent Comment(s):