The Ideal All-in-one Printer For Busy Moms

By
.(JavaScript must be enabled to view this email address)
November 17, 2010
|
Share

Del.icio.us
Printers have come a long way the past few years, especially with the all-in-ones. With your busy lifestyle, having a small, good-quality allin-one printer to preserve your memories can be a life-saver, especially if you have kids. In an episode of The Talk, CBS' new daytime show, the recently released Epson Artisan 725 was featured as part of a busy-mom segment. I wish I had been part of that audience, since each of those lucky audience members received an Epson Artisan 725 to take home with them!
"The Artisan 725 all-inone is designed to help busy moms show off their best creative projects quickly and easily," says Julie Ernest, product manager, Consumer Ink Jets, Epson America Inc. "The Artisan 725 seamlessly blends convenience and creativity with superior performing features and fun applications for your printing, copying and scanning needs. Whether it's used to create birthday invitations, holiday greeting cards, print photos, or copy recipes, the Artisan 725 is the ideal solution for any mom, including those who love The Talk."
Epson claims the Artisan 725 boasts the world's fastest 4-by-6-inch photo print speeds (as fast as 10 seconds per picture), and you can print wirelessly from your computer or even your iPhone/iPad (with the Epson iPrint app). It features a touch panel 2.5-inch color LCD screen, memory card slots and full-featured copying and scanning capabilities.
The built-in wireless card uses Wi-Fi Certified networking and is easily shared with multiple devices. There also is an Ethernet port just in case you need to plug in directly. The touch panel is neat since you can easily preview, select and do your color enhancements/red eye corrections. If you're concerned about paper consumption, the Artisan 725 can do two-sided printing and supports printing on recycled paper.
You can print up to four different pages on a single sheet with the adjustable paper tray supporting up to 8.5-by-14-inch media. Additionally, there is a dedicated photo tray for 4-by-6-inch and 5-by-7-inch media.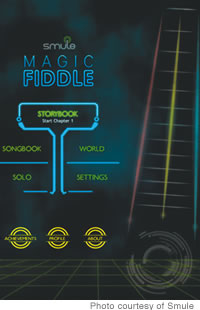 This printer uses Epson's six-color Ultra Hi-Definition Claria ink and exclusive MicroPiezo print head with DX5TM technology, delivering clear text and vivid, true-to-life photos. It also features exceptional image enhancement tools, including built-in Auto Photo Correction to automatically evaluate and correct images and red eye, and color restoration capabilities to easily bring old, faded photos back to life.
Epson's Artisan 725 retails for $199.99, and you can find it at your nearest Best Buy (bestbuy.com), Office Depot (officedepot.com) or online at epsonstore.com ($50 off special).
With Christmas on the horizon, this is a great gift idea!

Click Chick's Mobile App of the Week: Magic Fiddle
Last week Smule, the maker of multiple popular iPhone/iPad apps, released another hit app with Magic Fiddle. This app teaches you to bow, pluck, do a trill, vibrato and glissandi directly from your iPad. You have 20 songs to choose from and no skill is required. As with some of Smule's other apps, you follow the streams of colored light to queue your music.
Magic Fiddle is $2.99 from the iTunes App Store, and worth every penny!
Most Recent Comment(s):