The Incredibly Small iPod nano

By
.(JavaScript must be enabled to view this email address)
October 14, 2005
|
Share

Del.icio.us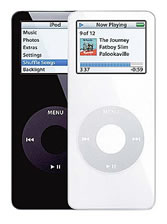 OK, I admit, and if you haven't noticed by now, I'm a collector of iPod
s. I own three already, including the shuffle
, the mini and "the brick" (as some of you may remember). In case you're wondering what I do with all those iPod
s, each has a purpose. The shuffle I use for running/exercise, the mini is hooked into my car and I use "the brick" for file backups. Well, Apple came out with a new head-turning iPod
design that I could not refuse. With a bright color screen and small, compact size, I had to add this one to my collection.
The iPod nano
is 62 percent smaller than the iPod mini
, and if I wanted to, I can discreetly fit it into the front pocket of my jeans without it being noticeable. It takes everything you love about other iPod
s, shrinks it, and shrinks it again, and only weighs 1.5 ounces. That's less than a single CD case. The dimensions are 3.5-by-1.6-by-0.27 inches, or think of it as being five dimes long and two pennies wide. Yes, it's very small, and very cool! Although it doesn't have an FM tuner or voice recorder built in, the 1.5-inch color screen gives it a nice eye candy interface. As with my other iPod
s, it has excellent sound quality and charges and syncs via USB (1.1 and 2.0).
With the nano
's bright color screen, you can view the photos downloaded from your computer (holds up to 25,000) and view the full-color album art of the song you're currently playing. You can also sync your contacts, calendars and to-do lists.
The battery will last you 14 hours, and it takes an hour and a half to charge it 80 percent or three hours for the full charge. The easy-to-use click wheel makes it simple to navigate the menus, fast forward, rewind, play pause or control the volume.
I guess you can kind of think of the iPod nano
as a hybrid of the iPod shuffle
, iPod mini and the full-sized color iPod
s. I think it's supposed to replace the now discontinued iPod mini
. It comes standard with earbud headphones, a USB cable and a dock adapter. Of course, an array of other accessories are out there, including colorful armbands ($29), lanyard headphones ($39), set of five tubes (to change the color of your nano - $29), a dock for convenient syncing and charging ($29), and more.
The iPod nano
is available in black and white 2GB (500 songs) and 4GB (1,000 songs) models. The 2GB is $199 and the 4GB is $249 at the Apple Store Ala Moana or online at www.apple.com
If you're wondering what purpose this fourth iPod
will serve for me, well, I don't know yet, but it's too cool not to have.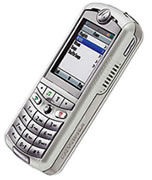 Get Ready to Rock With Motorola ROKR
. If you've been keeping abreast in the world of technology, you know that the word "convergence" has been hot lately. I'm not a big fan of these types of gadgets unless they're really good. I believe a camera should be a camera, a phone should be a phone, or an mp3 player should be an mp3 player. If you mix everything together, the end result may not be a quality product.
Well, Apple, Cingular and Motorola recently partnered together to create the first mobile phone with iTunes, and the outcome? It's no substitute for an iPod, but the Motorola ROKR
definitely has the word "convergence" written all across it. I thought it could be interesting - talk about a do-it-all gadget.
You can listen to music while browsing the Internet, sending and receiving messages, and while taking pictures. You don't need to worry about calls coming in because you can easily pause the music when you need to take a call.
As a phone, it's nothing exceptional, but what really makes it unique is the ability to actually play music. The phone is equipped with a single button on the face of the phone that takes you straight to an iTunes screen that looks similar to a color iPod. There you'll find playlists, artists, albums, shuffle songs and now playing entries. You can easily navigate using the small four-position joystick-like button located in the middle of the phone. With this you can also adjust the volume, and it acts as an iPod's previous and next buttons.
You can load up to 100 songs on the phone using a USB cable and listen to your music with either the ROKR's built-in "surround sound" speakers (with rhythm lights) or headphones. As with the iPod nano, the ROKR's color screen displays the album art of the song you're currently playing. It also gives you up to 6.5 hours of talk time, a camera with a zoom and flash, video recording and playback. As with many of the newer phones out there, all the standard features are on it: Bluetooth capable, address book, calendar, instant messaging, e-mail, customizable ring tones, etc. In addition, it uses a 512MB flash memory card to store your music.
A couple of drawbacks with the ROKR are that it takes a long time to transfer music on it, and that it doesn't have that extreme "wow" factor
I've come to expect from Apple. But if you're not picky, and want to save money on buying separate devices, this could be for you.
The Motorola ROKR
comes pre-installed with iTunes and includes stereo headphones and a USB cable. It is exclusively available for $249.99 at your nearest Cingular store, or www.cingular.com
.(JavaScript must be enabled to view this email address) www.click-chick.com
Most Recent Comment(s):