The iPhone experience: Christmas in June

By
.(JavaScript must be enabled to view this email address)
July 06, 2007
|
Share

Del.icio.us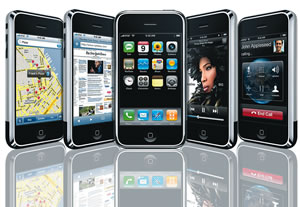 iPhone
So I stood in line for nearly three hours (after waiting for six months) to purchase my long-awaited Apple iPhone. I thought I might beat some of the bigger crowds of Ala Moana and wait at the Kahala Mall Apple Store. It was actually not as bad as I thought it could be, since I was No. 90-something after arriving at about 3:45 p.m. (doors opened at 6 p.m.). I thought the line would have been way longer, but I was fortunate.
I give a big round of applause to Apple for the way it handled the crowd and all the questions. Apple employees wandered around and handed out bottled water and Starbucks coffee as they answered everybody's inquiries patiently. After chatting with the dudes I was waiting with for those few hours (pictured here), we finally arrived at the door. They let five of us in at a time and the whole process was very efficient - I was in and out in less than five minutes. Plus, I was able to buy two 8GB models (one for me, one for my husband) before the store ran out.
As I mentioned, I was impressed with Apple and the way it handled the whole thing, especially after hearing other reports from various AT&T stores. My husband waited at one of them and had a totally opposite experience. To make a long story short, the AT&T staff seemed unmotivated and the people waiting were not kept informed, so the line eventually became an angry mob of impatient people. They were also not informed that the 4GB model was sold out until my husband found out and shouted it out to everyone else as he was leaving the store with no iPhone in hand.
All that aside, after a seemingly endless drive back home, we opened up the first iPhone box together and it felt like Christmas in June. It flawlessly and quickly activated to AT&T's service through iTunes 7.3, despite other slow experiences I heard about.
My phone number was almost instantaneously activated on the iPhone with no SIM card and deactivated on my old phone (even with my SIM card still in).
I must say the iPhone is pretty awesome and matches the hype over the past few months. Someday in the future all cell phones will/should be like this. My favorite aspect is the touchscreen and the fact that the screen rotates left-right or up-down, depending on your movements.
I also discovered that the phone needs to be upright and Honolulu City & County's website with the traffic cams, and of course Google maps.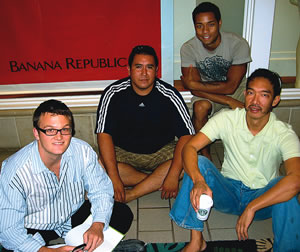 (L-R) Shen DeShayne, Rob Mora, Rob Uyeyama, Charles
Garrett Alison Stewart photo
The interface is very OS X-like, and a few of the improvements that were announced since I first saw it at the Macworld conference include a longer talk time, a glass top surface and support of third-party Web 2.0 applications. It gives you up to eight hours of talk time, six hours of Internet use, seven hours of video playback, 24 hours of audio playback, or 250 hours (10 days +) of standby time.
To me the biggest drawback of the iPhone is the lack of 3G capability. It uses AT&T's EDGE network, but it's slow. Basically the only time you'll have fast Internet is when you're in an area with WiFi. I'm also disappointed at the fact that it doesn't recognize java, and furthermore, its 2.0 megapixel camera has no zoom or flash. The touch keyboard is easy to use, but you need stick fingers to use it efficiently. You'll always end up typing in extra letters you don't want. Additionally, there is no ability to add in any extra storage space (such as a Memory Stick), and the battery is permanently inside. When it finally dies you'll need to send the iPhone back to Apple for battery replacement. Other than this short list of drawbacks, I would still highly recommend buying one of these.
If you didn't already buy an iPhone and don't want to fight the crowd, you can find it online at www.apple.com (free shipping). Otherwise, both Apple Stores (Ala Moana Center and Kahala Mall) are receiving shipments continuously to meet the demand.
Prices are $499 for the 4GB and $599 for the 8GB. It will only work on the AT&T network and the monthly plan rates range from $59.99 to $219.99, depending on how heavily you intend to use it. All these plans include unlimited data for e-mail and web access.
Most Recent Comment(s):