The Latest Look At Apple

By
.(JavaScript must be enabled to view this email address)
August 11, 2006
|
Share

Del.icio.us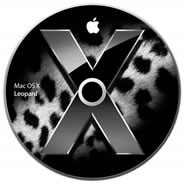 If I had the time, I would have attended the Apple Worldwide Developer's Conference (WWDC) 2006 this year to experience the latest and greatest of Apple's new, upcoming offerings, and the chance to dive deep into the full range of the Mac OS X technologies, including applications, graphics and media, development tools and OS foundations.
This Apple-geek event was held this past week, Aug. 7-11, in San Francisco. Despite the fact that I wasn't there, I closely followed it and had my ears perked up for all the announcements.
There were four major items Apple announced: Mac OS X Version 10.5 Leopard, Mac OS X Server Leopard, Mac Pro Featuring Quad 64-bit Xeon Processors and the Xserve with Quad 64-bit Xeon Processors.
Leopard is the sixth major version of Mac OS X to hit the market, and you'll be able to buy it in spring 2007. Major innovative features of Leopard include Time Machine, Spaces and enhanced Mail & iChat.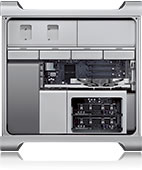 Although you should be backing up your computer on a regular basis anyway, if you're one of those people who don't have the patience, Time Machine makes backing up very simple. Time Machine will offer you the ability to travel back in time within your computer to find deleted files, applications, photos or other digital media - a feature I know many, many users who accidentally delete their files (not mentioning any names) will appreciate. There are ways of doing that now, but believe me, it's a huge pain in the you-know-what, and not fun. Time Machine will magically, automatically back up everything on your Mac to an external hard drive or Mac
OS X Server. If your file is lost, you can restore your file instantly with one-click, using an intuitive time-based visual display to help you find it.
Spaces is a new way to group applications required for a given task into a "space," and you can instantly switch between the spaces to bring the specific applications required for that given task. You can see a bird'seye view of all your Spaces and choose where you want to go next with one keystroke on your keyboard or one mouse click.
Leopard's new iChat brings communicating with friends and family to a whole new level. Your iChat sessions will be more exciting with the ability to use Photo Booth effects to put images and videos in the background. iChat screen sharing will enable you to share your desktop pictures with your friends, and work together in real time on activities such as editing an iPhoto book. With the iChat Theater, you can share your iPhoto slide show, a QuickTime movie or Keynote presentation within your iChat window. Leopard's Mail will include multiple templates with more than 30 customizable stationery designs to choose from. Additionally, Leopard's Server version enables all the users to take full advantage of the essential services, including file and printer sharing, Mail, iCal, iChat, Address Book and backup.
The new Mac Pro quad Xeon 64-bit desktop workstation replaces the older Power Mac G5 line of computers. Featuring two new Dual-Core Intel Xeon processors running up to 3.0 GHz and a new high-speed system architecture, the new Mac pro workstation delivers up to twice the performance of the Power Mac G5 Quad, for almost $800 less. What does that translate to? A really, really fast computer that I am looking forward to owning.
This workstation represents the rapid and seamless transition for Apple, with the entire Mac family now using Intel's latest processors. The Mac Pro features the new Dual-Core Intel Xeon 5100 series processor based on Intel Core microarchitecture. My favorite part about this machine is that you can install up to 2TB of storage, using four 500GB Serial ATA hard drives. I already have multiple ideas on what I will do with all that storage space. It has already hit the shelves at $2,499 at http://www.apple.com, the Apple Store at Ala Moana Center or your nearest CompUSA.
Stay tuned for more to come ...
Most Recent Comment(s):