The Latest Releases From Apple

By
.(JavaScript must be enabled to view this email address)
August 15, 2007
|
Share

Del.icio.us
Many of you have been asking me about when Apple is going to release a new iPod. I don't know, but I can tell you that Apple just unveiled a bunch of new things - a new iMac, iLife '08, iWork '08 and the enhanced .Mac service.
The new all-in-one iMacs feature nice, big 20- and 24-inch widescreen displays. The entire line has the latest Intel Core 2 Duo processors and a nice-looking, ultra-thin aluminum enclosure and keyboard. As with the previous iMac, it comes with a built-in iSight video camera to conveniently do video conferencing. Prices start at $1,199 for the 20-inch ($300 less than the previous model) and $1,799 for the 24-inch model ($200 less than the previous).
"This new iMac is the most incredible desktop computer we've ever made," said Apple CEO Steve Jobs. "Our new design features the innovative use of materials, including professional-grade aluminum and glass that are highly recyclable."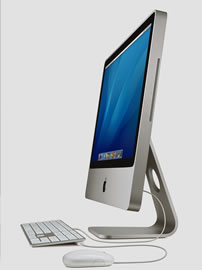 Personally, I'm impressed with how much power these thin little guys pack. The base hard drives are 250GB and upgradeable up to one whole TERABYTE on the 24-inch iMac. Can you imagine the things you can do with a terabyte?! The processors start at 2.0 GHz and are customizable to 2.8 GHz with the 24-inch. All iMacs feature ATI's next generation of graphics with either the Radeon HD 2600 PRO with 256MB of GDDR3 memory, or the ATI Radeon HD 2400 XT with 128MB of GDDR3 memory.
All new iMacs come with iLife 08, the most significant upgrade to an iLife pack. It features a new version of iPhoto, a reinvented iMovie, iWeb '08, .Mac Web Gallery for .Mac users and GarageBand '08. Of all these, iMovie definitely gives you the biggest change with its increased ease of use. Instead of making a movie in hours it will take you minutes. You can import video from the latest AVCHD, HDV and DV camcorders, as well as digital cameras, and display your entire video library whether it's stored on your internal or external drive. Easily add-in sound-tracks from iTunes, and click, click, click ... enjoy your homemade movies on your iPod, iPhone, AppleTV or an easy upload to YouTube.
Other than the new iMovie, I'll probably make good use of iWeb too. I'm looking forward to seeing the new templates, and checking out how adding-in Internet video is. You can do that to any webpage now of course, but iWeb puts it all in an easy package for the more technically-challenged folks. If you don't happen to buy yourself a new Mac anytime soon, iLife '08 will cost you $79.
For you .Mac subscribers, our storage space just went from 1GB to 10GB, or 2GB to 20GB for the family pack customers. The prices will remain the same at $99 for an individual year-long subscription, or $179.95 for the family pack. Using iPhoto you can create an easy .Mac Web Galleries to share your photos, and have your family/friends contribute photos too. The .Mac Web Gallery is designed to work seam-lessly with the iPhone - just snap a picture and upload it to your .Mac Web Gallery right from your iPhone.
The last in Apple's announcements is iWork '08. This is Apple's productivity software that features new versions of Pages, Keynote and Numbers. Pages is a word processor, Numbers is a spreadsheet maker, and Keynote is for presentations. I honestly have not used Pages or Numbers for anything before, but Keynote is nice. To me Keynote '08 is the absolute best alternative over Microsoft PowerPoint.
One of my pet peeves is ugly PowerPoint presentations, especially those with the ugly cheesy clip art graphics dancing all over the screen - oh my gosh! Anyway, if you can use Keynote '08, you're better off impressing your audience with this $79 software. Note that you can import any Microsoft Word, Excel or PowerPoint file into iWork '08, and I'm sad this won't work on a PC for my other job.
For more information on these products, or to make a purchase, visit your nearest Apple Store or log onto www.apple.com.
Most Recent Comment(s):