The Latest Stuff From Apple

By
.(JavaScript must be enabled to view this email address)
January 14, 2009
|
Share

Del.icio.us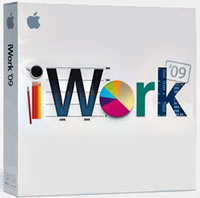 Since I couldn't make it to Macworld this year, I asked my husband, Mr. Click Chick, to gather as much information as he could, along with items at the Consumer Electronics Show. Here's a start:
iLife '09: iLife '09 features major upgrades to iPhoto, iMovie and GarageBand, and includes iDVD and an updated version of iWeb (new iWeb Widgets: iSight video/photos, countdown timer, YouTube video and RSS feeds). "iLife continues to be one of the biggest reasons our customers choose to get a Mac," says Steve Jobs, Apple's CEO. "With iLife '09, we've made working with photos, making movies and learning to play music a lot more fun, and iMovie users are especially going to love the advanced but easy-to-use new features."
The new iPhoto allows you to browse and search photos based on when they were shot (Events), who appears in them (Faces) and where they were shot (Places). It automatically scans photos to detect people's faces and assign a name to any face, and iPhoto will find more pictures of that person. Your library can be searched by name or browsed with the Faces View. Places imports photo location data from your iPhone (or any GPS-enabled phone), or assigns a location to a photo, group of photos or event. Once iPhoto knows where your photos were taken, you can explore them with a search on an interactive map.
Your photos already on Facebook include assigned names, and the nametags you add on Facebook sync back to iPhoto. iMovie allows you to quickly create a movie and add refinements and special effects. You can drag and drop one clip on top of another to reveal the new, advanced editing options (replace, insert, audio only, picture-in-picture or green screen). Using its Precision Editor, you can skim on a magnified filmstrip to view clips and fine-tune an edit. iMovie's ability to analyze video and reduce camera-shaking in clips, along with the new titles, transitions, cinematic effects, speed changes and animated travel maps, add a professional polish to your movie.
Lastly, GarageBand offers a new way to help you learn piano and guitar with lessons at your own pace (Basic Lessons). Artist Lessons feature original artists (Sarah Bareilles, John Fogerty, Norah Jones and more) and are sold at the GarageBand Lesson Store. iLife '09 is included with every new Mac purchase and will be available later this month for $79 upgrade for existing users. You can find it at your nearest Apple Store (http://www.apple.com) or Mac Made Easy (http://www.maceasy.com). Note: It will run only on Mac OS X 10.5.6 or later. iTunes Store Changes: Apple unveiled a new 17-inch MacBook Pro, which features a new builtin battery that delivers up to eight hours of use and 1,000 recharges (more than three times a conventional notebook battery). It has a 1920 x 1200 display with 78 percent more pixels than the 15-inch MacBook Pro. It comes with Intel Core 2 Duo processors (available up to 2.93 Ghz), up to 8GB DDR3 RAM, and a standard 320GB 5400 rpm hard drive (or optional 320GB 7200 rpm, and 128GB/256GB solid state drives).
The new 17-inch retails for $2,799, and will be sold at the end of January. Adepleted battery can be replaced for $179 (same vendor information as above). iWork 09: iWork 09 is the latest version of Apple's productivity suite similar to Microsoft Office. An iWork.com public beta is out there to develop sharing iWork 09 documents online. As for the applications, "Keynote" allows you to apply a simple transition to animate the position, scale, rotation and opacity of an image, graphic or text that is repeated on consecutive slides. "Pages" lets you focus your document and reveals menus, format bar and page navigator only when you need it. Lastly, "Numbers" gives you a way to quickly categorize your data by column, and gives you easy formula writing. iWork costs $79, or $49 with the purchase of a Mac (same vendor information as above).
Most Recent Comment(s):