The Lonely Life Of A Digital Diva

By
.(JavaScript must be enabled to view this email address)
September 16, 2005
|
Share

Del.icio.us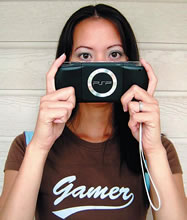 I must say that I embrace my lifestyle as a "girl geek." I love knowing the latest and greatest of what's out there in the world of technology. There aren't many of us digital divas out there though. I once again came to this realization recently while having lunch with some of my girlfriends.
First we were talking about "normal girlie" things, next we started talking about my friend's husband, and how he's in the IT (information technology) field, and she mentioned some of his "help desk" stories and experiences. I jumped in and shared some stories of my own, and went on and on, and probably got a little carried away. Soon, I just saw blank looks from them, then silence. A burst of laughter from all of us broke the silence as they were teasing me on how much of a geek-dork I am. Well, unfortunately none of my girlfriends share this techie interest with me, so I can hardly talk to them about video games, the latest gadget toys or the cool hacks that I've done lately.
About two years ago, on a trip to visit some of my husband's family, his aunt and two cousins thought it would be nice to take me to the mall on a little shopping trip. As we walked around, they were looking at all the clothes, purses, shoes and other accessories. To my delight, I spotted a Software Etc. store. I told them, "I'll be over there," as I pointed in the direction of the store. They decided to come with me (probably not knowing that I was pointing to the game store). As I walked in the store,
I turned around to see if they were behind me. The three of them were stopped and frozen at the doorway.
It was as if they hit an invisible wall and couldn't go any farther. I had a good laugh to myself.
Don't get me wrong, I do enjoy regular shopping too. In fact I did just buy a purse not too long ago. I just had to make sure it fit my Sony PSP
, digital camera and cell phone, in addition to my wallet. While most women are out getting their hair or nails done, I'd rather spend the money on a new video game or toy. At the magazine rack, while most of the women are looking at the fashion magazines, there I am checking out the latest issue of Wired
or PC Gamer
. Of course there are many guys out there who can identify with my interest (my husband being one of them), but I'd like to see more of us Click Chick types arise out there. We are few and far between!
Isn't It Iconic? I became bored with looking at the same old icons on my desktop, so I set off on a mission to change them. I went on an Internet hunt to search for the best icons available for free. The initial sites that came up on my search were less than impressive, and only offered those cheesy looking ones you see on an awful PowerPoint presentation. But blech! I wasn't going to settle for that.
There are multiple icon websites out there, but the top two that won my attention were Pixelgirl Presents (www.pixel-girlpresents.com) and Icon Factory (www.iconfactory.com). I applaud Pixelgirl Presents for the availability of its nearly 400 downloadable sets. They're mostly family-friendly without being tacky. You can choose from foods, animals, robots, anime, retro or cultural iconography (i.e. Japanese good luck charms). Wouldn't it be fun to change your icons to match the holidays throughout the year, or what mood you're in? You can also change your desktop picture around with Pixelgirl's nearly 1,000 desktops available.
Icon Factory's website is a bit cluttered, but if you look in the right places, you can find just about anything from A-Z, using the convenient search window. It probably has more of a selection than Pixelgirl, you just have to dig a little. It gives you the option of purchasing IconBuilder
if you don't find what you're looking for. You'll need Adobe Photoshop
or Macromedia Fireworks
to use it, as well as a creative streak. You can download it for $79. In addition, IconBuilder offers all sorts of tips, various tools and design services.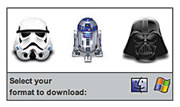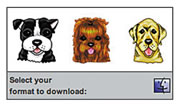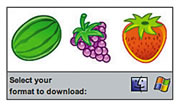 You can download icons for your
desktop to match your personality
OK, now you have all these cool icons to play with, but how do you change your folders around? It's really quite simple:
For Mac:
* Highlight the folder you would like to change
* Simultaneously push the Apple (command key) and I keys for the properties
* Copy your selected icon (highlight, and push Apple C)
* Highlight the "old" folder icon inside the properties window and replace it with your new icon by pasting it over (Apple V)
For Windows XP:
* Right click on the folder you would like to change (for the properties window)
* Click on the Customize tab
* Click on Change Icon, select your icon picture
Now you're all set to spice up your computer's desktop.
Most Recent Comment(s):