The Marriage Of Apple And Intel

By
.(JavaScript must be enabled to view this email address)
February 03, 2006
|
Share

Del.icio.us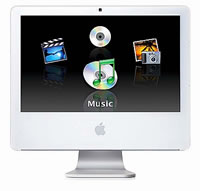 When the rumor first arose that Apple would be putting Intel chips into its computers, I almost didn't believe it. So I waited and waited. Now they're here ... they're finally here!
Intel processors were previously only found in PCs, so this is a breakthrough that they're now in Apple's computers. Outputting more using less power, the revolutionary Intel Core Duo chips have two processors built into one chip. It is the first chip built using Intel's 65-nanometer process, resulting in transistors small enough to fit 100 into a single human cell. This allows the chip to share resources and conserve power between its two processors.
Intel Core Duo has kicked the new iMac up two times faster than the previous iMac and the MacBook Pro laptop four to five times faster than the previous PowerBook. Both additions include a built-in iSight video camera for video conferencing or a video Podcast, iLife '06 (includes upgraded versions of iPhoto, iMovie HD, iDVD, GarageBand and the new iWeb program), Front Row/Apple Remote (to control your favorite cool stuff on your computer from across the room), Bluetooth 2.0 + EDR (Enhanced Data Rate) and Mac OS X version 10.4.4 Tiger.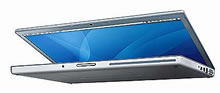 Each new iMac comes standard with a SuperDrive (for burning DVDs and CDs), 512MB of RAM (expandable to 2GB), ATI Radeon X1600 PCI Express-based graphics with 128MB of GDDR3 memory (graphics performance), five USB ports, two FireWire ports, a Mighty Mouse and Apple Keyboard. The 17-inch version has a 1.83 GHz Intel Core Duo processor and a 160GB hard drive ($1,299). The 20-inch version has a 2.0 GHz processor and a 250GB hard drive ($1,699).
The MacBook Pro features a 67 percent brighter 15-inch display, a lightweight 1-inch thin aluminum enclosure and only weighs 5.6 pounds. It debuts
Apple's patent-pending MagSafe magnetic power connector which magnetically couples the power cord to the MacBook Pro. The connector disconnects from the notebook when there is strain on the power cord. All MacBook Pros come standard with a slot-load SuperDrive, PCI Express-based ATI Mobility Radeon X1600 with 256MB GDDR3 memory, a 60-watt hour lithium polymer battery and a scrolling TrackPad to control the mouse and Apple's Sudden Motion Sensor that is designed to protect the hard drive in case you drop it. The MacBook with the 1.67GHz processor comes with an 80GB hard drive and 512MB RAM (expandable to 2GB) ($1,999). The one with the 1.83 GHz processor includes a 100GB hard drive and 1GB of RAM (expandable to 2GB) ($2,499).
If you're in the market for a new computer, I highly recommend one of these. I currently use a PowerBook G4 and I will definitely upgrade soon to the MacBook Pro. Check them out online at www.apple.com or at the Apple Store at Ala Moana Center.
Create Your Own Website With iWeb.
I'm fairly savvy as far as building my own web-pages, etc., but still impressed when I see excellent design templates that are easy to use. Apple recently announced iWeb, a web creation program that helps you make your own web-site with almost no hassles. This is perfect if you want your own web-site but don't know where to start or what to do.
I wrote previously about creating your own website or blog through services such as Blogger, but iWeb is even easier since you don't have to worry about registering and paying for a domain name. iWeb is integrated with .Mac, Apple's web hosting service, so as long as you're a subscriber to .Mac, you're set to go.
You can also use iWeb to create, manage and publish your own website or publish a site to a .Mac group. If you want to keep your website private, you can password protect it and only give it out to your select few to ensure privacy. Since
Apple hosts everything you publish, there are no configuration hassles to worry about either. With just a few clicks, and without having to spend a million dollars on a graphic designer, make your own web-site or blog with Apple's eye-catching templates. Choose the right one for your style or mood, then you edit the placeholder text and use the iLife Media Browser to add in your photos, movies, podcasts and songs. You can tweak the graphics you drag into your template and resize, rotate, layer, etc., similar to what you would do in iPhoto. In addition, you can mix and match templates within a site or create different sites with different themes.
In addition to the handsome web templates to choose from, you can also use Apple's .Mac to host your photos, albums and movies. If you're interested in creating your own podcast, using iWeb's templates is an easy and excellent way to do it in conjunction with GarageBand. iWeb takes care of making an RSS feed out of it and allows you to submit it to the iTunes Music Store where anyone can listen to you and subscribe to your podcast.
iWeb comes as a part of the iLife '06 software package you receive with your new iMac or MacBook Pro. If you're not upgrading to a new Mac anytime soon, iLife '06 sells for $79 and includes iPhoto 6, iMovie HD 6, iDVD 6 and GarageBand 3. In addition, a .Mac account is $99.95 a year, but you can start off with a 60-day free trial. Check out www.apple.com or visit the Apple Store in Ala Moana Center for a test drive. No HTML skills required, I promise.
Most Recent Comment(s):