The Mobile Executive Takes Off

By
.(JavaScript must be enabled to view this email address)
July 23, 2005
|
Share

Del.icio.us
A couple of weeks ago I attended an event called "The Mobile Executive," which was put on by Sprint Hawaii and elegantly held at the Mercedes- Benz dealership. This sneak preview affair allowed me to play with some new and upcoming technologies that Sprint has to offer.
The mobile executive is able to access business information and have entertainment while on the go, all in one hand, connecting to content over a wireless network. He/she does this by using all-in-one devices — the convergence of the digital camera, PDA, e-mail access, television and mp3 player. The mobile executive is also able to do more while away from the office and be responsive to customers' "real time" needs. There are always ongoing software upgrades for faster data, better capacity and improved applications.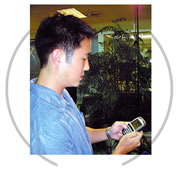 Part of the mobile executive's life is spent on the road. Any car has the potential to become a part of the mobile lifestyle thanks to Bluetooth car kits. For those of you who want something a little more complicated than the plug-and-play Parrot kits I wrote about previously, but don't have the patience or the know-how for installation, Hands-Free Hawaii will do it for you. There, the Bluetooth kits range in price from $179 for the Nokia CK- 7W, or Motorola HF850 to $479 for the high-end HF Kit. Call Terence Yorga of Hands-Free Hawaii at 597-8008, and he will help you figure out your own customized Bluetooth car solution. Also keep in mind that utilizing your phone's Bluetooth capability will also help you promote safe driving to other drivers on the road.
The devices of the mobile executive can benefit anyone, especially frequent travelers who need to stay in constant touch. To explore what Sprint has to offer, visit your nearest Sprint PCS store or log onto www.sprint.com

A New iPod shuffle
I already own an Apple iPod shuffle
, as you may remember me writing about a few months ago, and it's small size, sleek look and convenience are perfect for my needs. Well, Sony recently came out with an iPod shuffle contender, and for vanity's sake, I might have to alternate my shuffle for one of these.
The eye-catching colors the Sony's Network Walkman Digital Music Player 500 Series (NW-E505
and NW-E507
) comes in are brilliant. The NW-E505
is the 512MB version, and it can store about 345 songs, and is available in pink and blue. The NW-E507
(1GB version) holds about 695 songs, but only comes in silver.
You can't help but be impressed when you see the sleek, almost futuristic body mixed with the mirrored plastic and the frosted metal colors. The pink one is the perfect addition to my purse and collection of other electronic toys.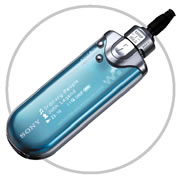 Unlike an iPod shuffle with no display screen, the NW 500 series offers an attractive, bright three-line Organic Electroluminescence (EL) display that lets you see the song title, song length, current time/date and battery indicator. You can even have it display them in different languages. In addition, you can control the bass and treble sound settings. It's no five-band equalizer, but it does the trick for a little guy like that. The 500 series includes an FM radio tuner so you can also listen to the radio once you go through your song collection or if you just want to hear what's going on in the world. The tuner works easily with a turn of the control knob on the side. I'm fond of this radio feature because it's something that none of my iPods has.
More eye-candy: While it plays music, instead of looking at the three-line display, you can watch a graphical timer. While it's in power-save mode, the standard display disappears and little echo sound waves appear on the screen to indicate playback. The long-lasting battery life is 50 hours, so you don't have to worry about charging it very often. If in case you do run out of juice, its Super Quick Charge feature will power you for three hours with a three-minute charge.
There are a few drawbacks. You can only sync your 500 series using Sony's proprietary software called SonicStage, which is included with the purchase of the device. It is only functional on a PC, and no Mac version is available. Also, these are about $50 more than the iPod shuffles (512MB
and 1GB
, respectively) with the NW-E505
at $149.95 and the NW-E507
at $199.95. Lastly, you have to use a USB cable to sync and charge your Sony, whereas the iPod shuffle plugs directly into your computer with its built-in USB plug (just a matter of convenience).
You can find Sony's NW-E505
series online at www.sonystyle.com
.(JavaScript must be enabled to view this email address)
Most Recent Comment(s):
Commenting is not available in this weblog entry.