The New Blu-ray Disk Camcorder

By
.(JavaScript must be enabled to view this email address)
October 31, 2007
|
Share

Del.icio.us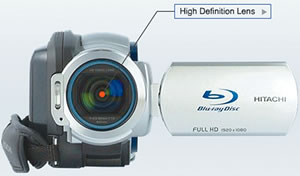 Front
I own two cameras that can take video footage, but they're not dedicated video cameras. I still do not own one that does only video, and ever since the wedding I went to last month, choosing the right one to buy has been on my mind.
Non-tape media camcorders (DVD or HDD camcorders) have grown to dominate more than 80 percent of the camcorder market, and high-definition camcorders have taken about 30 percent of the consumer market. Both are expected to continually grow.
With that thought, earlier this month Hitachi started selling the world's first Blu-ray Disk (BD) Camcorder (two different models - DZ-BD70 and DZBD7H). If you've read some of my previous columns, you probably already know that I choose Blu-ray when it comes to the Blu-ray vs. HD-DVD war, so I was thrilled to hear about this new Blu-ray camcorder. It's literally the world's first Blu-ray disc camcorder! These cameras opened up a whole new door for me.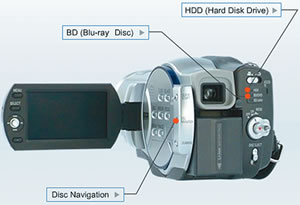 Back
The DZ-BD70 is a single drive camcorder that can record up to one hour of 1920x1080 full high-definition video, or two hours of 1440x1080 high-definition video on an 8cm BD. The DZ-BD7H is almost the same, but is a hybrid version, which has 30GB built-in hard drive, which can record up to four hours of full high-definition video, or eight hours in the regular high-definition mode.
The hybrid's Easy Dubbing feature allows you to transfer footage quickly and directly to a Blu-ray disc with no image quality loss. The widescreen 2.7-inch LCD viewfinder makes it easy to see what you're shooting, and the one-second quick start is convenient when you're in standby mode and need to catch something right away. All the vital parts of the camera support the 1920x1080 full HD video. The lens has a 10x zoom and is non-spherical to maintain a compact body size. It is also multi-coated to prevent reflection, glare or ghost images. The CMOS (Complementary Metal Oxide Semiconductor) image sensor has a RGB primary color filter and is capable of reading pixel area randomly at the rapid speed essential for full
HD video imaging. The Picture Master Full HD High Resolution Image Processing Engine processes the massive amount of data captured by the CMOS image sensor.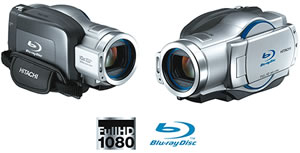 These cameras allow you to capture six times the data of a standard definition camera. You can use it as a fairly decent still camera - 2.07 megapixels, which can be saved on an SD Memory Card. One of my favorite attributes is simple but useful - it has an HDMI output terminal! This allows you to transfer a full HD signal to an external source (i.e. your TV, as long as it also has an HDMI port).
One 8cm Blu-ray disc has a capacity of 7.5GB, equivalent to five 8cm DVDs at 1.4GB each. Note that the BD drive on these cameras is compatible with BD-RE/R, DVD-RAM/-RW/-R. Blu-ray has gained the support of more than 170 companies around the world, and is, in my opinion, the format likely to win the HD war. These cameras score another point for the Blu-ray team.
Find the Hitachi DZ-BD70 for $1,500 or the hybrid DZ-BD7H for $1,700 at www.amazon.com. Log onto www.hitachi.com for more information on both camcorders.
Most Recent Comment(s):