The New, Fastest Internet Service

By
.(JavaScript must be enabled to view this email address)
September 12, 2007
|
Share

Del.icio.us
Hawaiian Telcom Launches Fastest Internet Service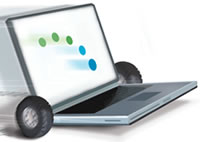 Hawaiian Telcom, Hawaii's fastastest Internet service
It looks like Hawaiian Telcom has quite a bit going on lately. Last week I wrote about their TrueSwitch program. A few days later, they announced Hawaii's fastest Internet service. Now the option for 11 megabits per second (Mbps) download speed is available to you. If that number means nothing to you, trust me, it's fast!
The Hawaiian Telcom High-Speed Internet (HSI) is possible with its investment of more than $100 million into systems and network upgrades over the last two years. One of the results of this is the new Multi Protocol Label Switching (MPLS) network. This is what makes the faster service possible.
"This acceleration in speed establishes a performance benchmark against which all other providers will be measured," said Mike Ruley, Hawaiian Telcom's chief executive officer. "Our investment in our Next Generation High-Speed Internet provides broadband access using the most advanced technology available and brings us another step closer to priming our network for the delivery of our digital video service," he added.
For the moment, if you're in Metro/East Honolulu, Ewa Beach, Mililani, Waipahu and Wahiawa, you'll be able to access this new HSI. As for the outer islands, Hilo on the Big Island and Makawao on Maui have it too. For those of you not in these areas, be patient - Hawaiian Telcom is working on expanding this throughout the state for more coverage.
I can't wait to try this new 11 Mbps speed (and thankfully I live in one of the covered areas). With the current service I have now I only receive a maximum of 6 Mbps. With HSI, it'll be nearly double that! The speed upgrade will definitely make a huge difference for those of you that do tons of streaming video, large file downloads/uploads, and of course video games, but if you just do basic e-mailing and Internet surfing, you can survive with a more basic plan.
If you already have a phone line, the monthly charges are $29.99 for the low-end 3 Mbps, $39.99 for the 7 Mbps or $49.99 for the top 11Mbps. If you're a Hawaiian Telcom myChoice bundle customer, you can upgrade from the 3 to 7 Mbps plan for an additional $4/month.
For folks that do not have land phone line, no worries, you can still take advantage of the service. The no-phone monthly prices are $34.99 for 3 Mbps, $44.99 for 7 Mbps and $54.99 for the much-coveted 11 Mbps. For more information call 643-0805 (residential), 643-0841 (business), or check out www.hawaiiantel.com.

Yet another announcement from Hawaiian Telcom is HTSportsNet.com. This is a website that streams games live for you to watch, whether you don't want to go to the live game and fight the crowd, or if you're a Hawaiian transplant on the mainland or overseas.
"HTSportsNet.com is also popular with former Hawaii residents who now live in different parts of the world," said Michael "Mac" McHale, senior vice president and chief marketing officer for Hawaiian Telcom.
"There are a lot of loyal UH sports fans out there, and thanks to this service, they can now watch the games live, too."
This is also perfect if you're a high-tech tailgater, and just want to hang out in the parking lot with your laptop (of course you'll need an Internet connection too). Or, heck ,you can even take your laptop into the stadium seat too and watch the action close-up and replays too.
The available sports to view are UH's men's football, baseball, basketball and volleyball or women's basketball, soccer or volleyball. The cost to view a single game is $9.95. You can also subscribe to an entire season of one sport for $39.95, Single Sport iTicket. If you want it all, it's $69.95 for an All Sport iTicket. Note that Windows Media Player is required to view these games.
In reference to my previous story, if you're a Hawaiian Telcom High-Speed Internet customer, you'll receive a free season pass to one sport ($39.95 value). Check out HTSportsNet.com to view the website and to purchase your iTickets.
Most Recent Comment(s):