The New, Improved iPhone OS 4.0

By
.(JavaScript must be enabled to view this email address)
April 21, 2010
|
Share

Del.icio.us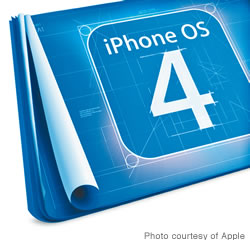 In the midst of the whole iPad hype, Apple announced the evolution of the iPhone operating system - iPhone OS 4.0. This release seems to fix some of the shortcomings of previous models.
"iPhone OS 4.0 is the fourth major release of the world's most advanced mobile operating system," says Steve Jobs, Apple's CEO. "We're delivering over 100 new features, including multitasking, folders, a unified inbox, deeper Enterprise support, and an iPhone version of our iBooks reader and online iBookstore."
The lack of multitasking is probably the biggest complaint I've heard about the current iPhone operating system. The new popup menu in OS 4.0 will show four apps, but you'll be able to run at least 12 apps simultaneously. Unfortunately this feature will only work on the iPhone 3GS and the third generation iPod touch.
If you have loads of apps on your iPhone/iPod touch, as I do, and sick of scrolling through a hundred screens to find your one app, the home screen folders will be a big help. You'll be able to take an app and drop it on top of another to create a folder. To name it or see the contents, just tap it for an expanded view.
E-mail has always worked well on the iPhone, but if you have multiple accounts, you have to go into each account individually as opposed to one screen. This new unified inbox will fix that issue and give you limited options for message sorting (i.e. thread your messages by conversation), the ability to add Exchange accounts, create playlists in iTunes, 5x digital zoom for the camera, and open e-mail attachments with compatible apps. iAd, Apple's new mobile advertising platform, comes into play now. Until now, when you clicked on an ad, it would usually take you out of your app to a Web browser, but iAd allows the ads to be embedded into the app. Perfect revenue-generator for the app developers, but not so great for you, the consumer. Some of the other additions mentioned in the announcement are spell check, persistent WiFi, tap to focus video, gifting of apps, birthday calendar, rotate photos, customizable wallpapers for the home screen and much more.
iPhone 3GS and third-generation iPod touch users will see the update this summer, and it will be available for the iPad in the fall. Visit www.apple.com/iphone/preview-iphone-os for more information on iPhone OS 4.0.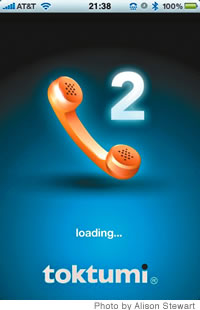 Click Chick's iPhone App of the Week: Line2
If you use your cell phone so much that you're always paying extra charges, or frequently have a bad cell signal, the Line2 app is probably for you. This app allows you to use your WiFi network or 3G connection to make phone calls off your iPhone, iPod touch (second generation) or even your iPad.
This is the first VoIP app that offers advanced call features such as call waiting, hold, transfer and conferencing for up to 20 people. The online control panel is at toktumi.com, and here you can enable the caller-specific forwarding rules with different voicemail greetings, call blocking, call screening and voicemail, etc.
The Line2 app will not drop your call if you receive another one on your regular iPhone line. You also can switch between Wi-Fi and 3G with no call disruption. Additionally, creating a new number is quick and easy, but sorry, the 808 area code is not available.
Find this app for 99 cents at the iTunes App Store. The service is free for the first 30 days, then $14.95/month thereafter (or pay as you go $19.95/month). It's worth the monthly charge if you're always on the phone.
Most Recent Comment(s):