The new, improved Roomba cleans up

By
.(JavaScript must be enabled to view this email address)
October 05, 2007
|
Share

Del.icio.us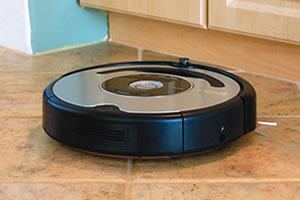 It's been five years now since iRobot's Roomba sucked itself into our world, and about two years since we first saw the Scooba (covered in one of my 2005 columns). I always thought the Roomba was a good concept, but never actually bought one because I thought the first generations seemed a bit flimsy.
A couple months ago, iRobot announced its line of 500 series Roomba vacuum cleaning robots, based on customer feedback from more than 2 million buyers over the last five years. This apparently added up to a much-improved product, as I saw when iRobot gave me the opportunity to test out the Roomba 560 for the past week.
"It took three years and the latest in robot technology innovations to create appliances that can clean as effectively and autonomously as the new Roomba 500 series," said Sandra Lawrence, president of iRobot Home Robots. "Life today is so busy, we rarely have the time or the energy to clean our homes as often as we'd like. If you wish you could have clean floors every day, this one's for you."
One of my biggest pet peeves is coming home and stepping on all the little crumbs, little rocks or whatever might have been tracked into the house and having them stuck to the bottom of my feet. I always pester my husband to take his shoes off in the house so my feet won't turn black from walking around on our tile floor.
On top of that, my cute but messy bird scatters his food all over the place when he's inside and outside his cage. You can imagine how excited I was to open up this box and just let it run.
I noticed immediately that this is much heavier and sturdier than previous Roombas. Heavy is always a good sign. That way I know it will take a great deal to topple it over. The first time I let it go around downstairs, it picked up so much that I almost could-n't believe it. As with other Roombas, it caught underneath the couches, tables and other places that a regular vacuum cleaner cannot reach.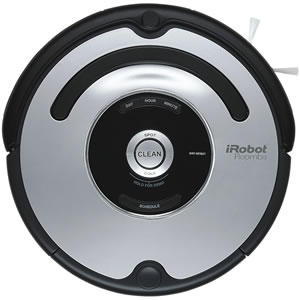 The Roomba's new redesigned dustbin holds significantly more debris than previous models. The one-button activation makes it extremely user-friendly, and there's a builtin voice tutorial that demonstrates Roomba's features right out of the box.
It is guided around the house by the virtual wall lighthouses. These four-inch tall mini towers orient your Roomba with radio frequency (RF) communications and guide it through your house. The lighthouses confine your Roomba to one room until it is thoroughly cleaned, then guide it to the next room. The important thing is to make sure the lighthouses can all see each other and the home base. When the battery is running low (usually lasts about an hour), it finds its way back to the base to dock and recharge.
You can program it to clean your floor automatically up to seven days a week, even when you're on a trip. Realistically I'm not sure if you would want to program it that often since you still need to clean it out every few times you use it. Additionally, note the patented three-stage cleaning system automatically adjusts to effectively clean carpets and hard floors.
I still love my good ol' loyal Dyson and the built-in central vacuum system I have in my house, but I'm also sold on this Roomba 560. It will definitely be a nice third vacuuming addition to the household, especially when I'm feeling lazy. As soon as I send this one back to iRobot, I'm buying one of my own!
Find the Roomba 560 at www.irobot.com, www.amazon.com (free shipping) or locally at the Sharper Image store (www.sharperimage.com) for $349.99. For a little less, the Roomba 530 is $299.99, or if you want a little more flexibility, the Roomba 570 is $399.99 (comes with a Wireless Command Center and many other extras).
Most Recent Comment(s):