The New IntelliGo Mobile Hotspot

By
.(JavaScript must be enabled to view this email address)
September 01, 2010
|
Share

Del.icio.us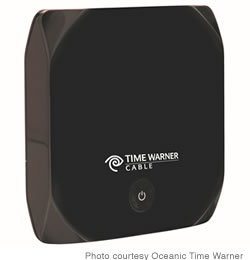 Last week I got my hands on Oceanic's latest IntelliGo, a dual mode (3G/4G) mobile hotspot that enables you to connect up to five devices.
My first thought was "it's the Sprint Overdrive twin." They're exactly the same (hardware-wise), since both use the Sierra Wireless AirCard W801 Mobile Hotspot. Since I already have an Overdrive, I was very familiar with how to use the IntelliGo.
"IntelliGo allows customers to really leverage the speed of the Time Warner Cable 4G network and the coverage of a nationwide 3G network on all of their WiFi-enabled devices virtually anywhere they go," says Kiman Wong, general manager of Road Runner Wireless. "We are excited to be bringing our customers IntelliGo and the ability to connect their favorite Wi-Fi devices to our 4G mobile network."
The IntelliGo is simple to use: Just push the button, wait a few seconds for it to turn on and connect your device. Typically the password is displayed on the LCD screen, which displays your connection status and battery life (lasts up to four hours on one charge). The WiFi range is up to 150 feet and also includes GPS capability and a MicroSD slot for up to a 32GB memory card, making it into a mini-storage device.
I primarily tested the IntelliGo with my iPad, and when I turned it on, I immediately received 4G connectivity. But that 4G only lasted a couple of minutes as I drove farther away from downtown Honolulu before it switched over to 3G. Throughout the course of my testing (and the same with my Sprint Overdrive), the 4G availability was spotty. I could only see 4G while I was closer to town, and never caught it at home on the West side.
While the device switches between 4G and 3G (when 4G isn't available), there seems to be a lag in the connection, and you have to enter your password again, sometimes multiple times. To avoid this issue, I disabled the 4G to make it 3G only, and it ran much smoother this way.
The IntelliGo is a great product, but in general I think the 4G infrastructure here in Hawaii has some expanding to do. As with other 4G phones/devices I've recently tested, I could mainly see 4G in the downtown area. Once I'm out of downtown, I don't receive a steady 4G connection.
But the bottom line is, when no other Wi-Fi hotspots are available, this is great to have with you.
The IntelliGo device costs $49 (after a $50 mail-in rebate and two year contract), and plans start at $34.95/month (2GB/month limit) and go up to $49.95/month (unlimited nationwide). Visit rrmobile.oceanic.com or call 643-2337 for more information.

Click Chick's Mobile App of the Week: Genius Scan
The Genius Scan iPhone app is amazing! It's a camera-based document scanner for your iPhone. It takes a rectangular document, analyzes it for perspective correction, then sends it via e-mail or saves it to your image gallery. You can use pictures you previously took, or images right from the camera. Basically this turns your little phone into a scanner.
This app is very convenient for items on-the-go such as receipts. Download Genius Scan for free at the iTunes App Store.
Most Recent Comment(s):