The New Wave In Communication

By
.(JavaScript must be enabled to view this email address)
December 09, 2009
|
Share

Del.icio.us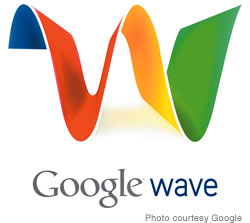 Google Wave is an online tool for real-time communication and collaboration. Simply speaking, it's a live chatroom that you can use to share documents, photos or videos with your fellow Google Wavers. You can collaborate on your projects (perfect for students), and it's a great service for people who love to multitask.
To start using it, you create a wave and add people to it. Everyone on your wave can use formatted text, photos, videos and maps to communicate and work together. It's all shared so your participants can reply live anywhere in the message. Some of the other great practical things you can do with Google Wave are event organization, photo sharing, meeting notes, brainstorming or, for fun, interactive games. For event planning, you can add in everything from an itinerary, menu, RSVPs, maps and even the weather rather than using different tools/Web sites as people typically do these days.
Google Wave's photo sharing is pretty smooth: Just drag and drop pictures from your desktop into a wave to share with others. Everyone else can now see your pics, and they can add their own. When all your collaborative pictures are in there, it's easy to make a group photo album. Other aspects mentioned above are fairly self-explanatory.
Google Wave was initially demonstrated at the Google I/O conference held earlier this year. Called "e-mail of the future," it's the result of a multiyear project by Google to re-invent the inbox and blend e-mail, instant messaging, photo sharing and social networking together.
Creators of the technology behind Google Maps brothers Lars and Jens Rasmussen headed up the Google Wave project to help stir up this reinvention of Internet communication. The result: It's a little bit of Facebook, Twitter and Friendfeed bundled into one service. And the bottom line: With Google Wave you can have faster conversations, edits and interact in real-time.
To learn more about Google Wave or request a free invite, go to wave.google.com. If you really want to dive into it, there's an hour-and-a-half-long video you can watch there. For the invite, click on the "I want Google Wave" link on the left.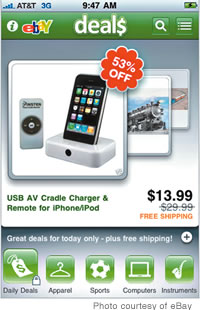 Click Chick's iPhone App of the Week: eBay Deals
I saw the eBay Deals app on the App Store last week, but didn't think to download it and try it out until MidWeek graphic artist Russ Kaya started using it and raved about it. Thanks, Russ! This new app from eBay is awesome, but at the same time dangerous since you can see great deals that span the entire ebay.com listings. eBay Deals allows you to see a constantly changing view of deals from various "must-have" popular categories such as apparel, electronics, photography, sports, collectibles, etc. All these listings have less than four hours remaining, zero bids, no reserve price and free or fixed shipping included in the total cost.
You can customize your searches and place your favorite icon in the start menu for quick access. To see a new group of deals, you just need to shake your iPhone/iPod touch. These deals also have built-in integration with Facebook and Twitter, making it easier for you to share with your family/friends. It's very easy to use and will make my Christmas shopping a bit easier this year.
Download the eBay Deals app for free at the iTunes App Store, and happy (but responsible) shopping!
Most Recent Comment(s):