The Next Gen House fits a high-tech lifestyle

By
.(JavaScript must be enabled to view this email address)
February 02, 2007
|
Share

Del.icio.us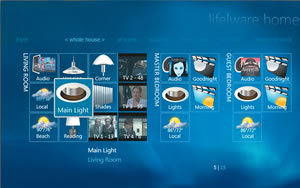 Since my husband and I bought a house recently, we've been constantly toying with ideas on how to upgrade it to cater to our high-tech lifestyle.We haven't done anything drastic yet, but I was definitely impressed with the Next Gen House that was on display at the Consumer Electronics Show.
When you walk into this house, you can tell it "hello,"and it will turn on music, the temperature will change and the lights turn on, or whatever you program it to do.When you say "goodbye,"it will do just the opposite. In fact,you can pre-program up to five hello/goodbye settings depending on your lifestyle.
How does this all work? There are a few different companies involved that make this package complete. Best Buy For Business (BBFB), in conjunction with HP and Life|ware home automation software and hardware, developed this next gen solution called ConnectedLife.Home. It's a digital home solution recently made available to actually purchase. It's the first "affordable"option that can be retrofitted to an existing home, or installed into a brand new structure. It is built on Life|ware software, which centralizes the control of surveillance, lighting, heat-ing/cooling and home entertainment.
ConnectedLife.Home connected features six main aspects: Next Generation TV (watch recorded TV from any connected TV in your house), Digital Music and Audio (listen to Internet radio throughout your home with a few clicks of the remote), Photos and Home Videos, Lighting (presets for away time, parties or watching movies), Climate Control (adjust thermostat settings by schedule or remote Internet access) and Home Safety (watch your baby or pet to see what's happening when you're not in the room). There's a Remote Access feature that allows you to play with your house's functions while you're sitting on the beach using your cell phone or any computer if you forget to do something, or want to control the lights, thermostat, adjust your DVR's schedule or spy on Fido with the home's surveillance cameras to make sure he's not chewing on the couch.c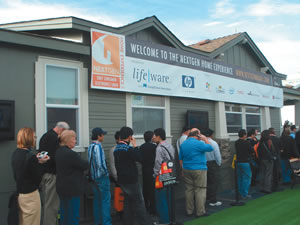 With Life|ware 2.0 and Windows Vista Media Center, the convergence of your home entertainment devices are consolidated by storing and sharing photos, recorded TV, home videos, music, etc. in one device. Note that the full version of Windows Vista was finally launched this week,and you can purchase it at CompUSA (prices vary from the $100 upgrade to the $540 full version). ConnectedLife.Home is powered by Life|ware 2.0, and runs on an HP Digital Entertainment Center (DEC).The DEC is then connected to a TV, which becomes the dashboard for controlling your lights, climate, security and digital entertainment throughout the entire home. If you're an Xbox 360 family, it's a plus since you can control the media center with your 360 controller (via Xbox media center extender) too.
In addition, the complete package includes one Premium Media Center Home Server, one Life|ware Home Automation software package, five Life|scenes personal home ambiance settings,one Corinex Any Wire Networking Kit, one premium gigabit router, one Wireless N access point, one Premium Media Center Extender, one programmable remote control, two Panasonic surveillance cameras,one digital thermostat (bi-directional communicating), one HVAC (Heating, Ventilation, Air Conditioning, aka climate control) interface (bi-directional communicating), five in-wall lighting dimmers (communicating),five in-wall lighting switches (communicating), and two programmable in-wall six-button lighting keypads. It also includes the installation and training, one-year Life|support Remote Home Support & Guidance and a 30-day Remote Home Access Service Trial (afterward it's $19.95 a month).
ConnectedLife.Home is simple to install since it does not require any cables to be pulled or walls to be dug out. It's an ideal retrofit, remodeling or builder solution.All installations are handled by the Best Buy For Business installation team, and the average installation time is one day. This package is an interesting option for new homeowners such as myself. I am highly considering it,but need to get the funding together first.
But if you have $15,000 to spare, this house upgrade can be yours.To order it,or for more information and to view the demo.
Check out www.bbfb.com/connectedlife. You can also call 800-962-9072 to speak with someone about your options. The package can be installed within five days of ordering, but unfortunately no product substitutions are allowed.
Most Recent Comment(s):