The Other e-Reader: Sony PRS-700

By
.(JavaScript must be enabled to view this email address)
March 18, 2009
|
Share

Del.icio.us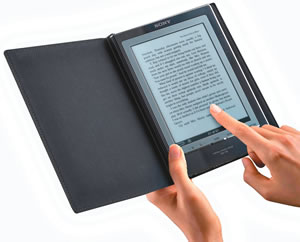 You may remember my column a few weeks ago about the Kindle 2. Since then, Amazon announced it would no longer enable the text-to-speech (audiobook-type) feature on the Kindle 2 as a default. Sad, but this was inevitable since the feature could take away and possibly compete with audiobook sales.
Another new e-Reader on the block and competitor to the Kindle 2 is Sony's third generation Kindle 2. It came out late last year and it's sleek compared to the Kindle, weighing in at only 10 ounces with an eye-catching black finish and 6-inch-long touch screen.
"Readers now have another choice in digital books," says Steve Haber, president of Sony's Digital Reading Business Division. "This new model has the eye-popping design and intuitive functionality that people have come to expect from Sony."
This version seems to be designed for more interactive reading compared to its predecessor, PRS-505. You can flip the pages with a slide of your finger and you can search within a document or book, create notes with the virtual keyboard and highlight text with the included stylus pen. Five preset text sizes allow you to adjust the size and zoom as necessary.
In addition, the 700 features a high-resolution, high-contrast electronic paper display that resembles ink-on-paper. This results in crisp text and graphics that are highly readable, even in bright sunlight. On the contrary, when it's dark, there's a built-in LED reading light.
You can store about 350 digital books or, with an additional Memory Stick Duo or SD memory card, it can hold thousands of books and documents. The reader uses minimal power, and you can view up to 7,500 pages on a single charge. Multiple file formats are supported (i.e. Adobe PDFs or Microsoft Word docs).
After looking at both stores, the Sony eBook Store has a much smaller selection than Amazon's Kindle Store, and overall the eBook prices seem to be a bit high (the average book is about $12). There are only about 100,000 titles available (compared to Amazon's 240,000). The PRS-700 costs about $400 (www.sonystyle.com). The PRS-700 is beautiful, but it seems the Kindle 2 is a better deal.
Click Chick's iPhone App of the Week: Kindle For iPhone
Since I'm leaning toward a Kindle, I want you to know that a couple weeks ago Amazon.com introduced Kindle for iPhone and iPod touch, an awesome alternative to buying an actual Kindle. As long as you have an iPhone or iPod touch, you really don't need to buy a Kindle or Kindle 2 with the release of this new app.
As with a regular Kindle/Kindle 2, you have access to the Kindle Store's 240,000 books, including 104 of 112 New York Times Bestsellers. With the signature newly Whispersync technology, your reading is bookmarked across your Kindle, Kindle 2, iPhone or iPod touch, so you'll never lose your place. Since I don't have an actual Kindle, I tested out Whispersync with my iPhone and iPod touch. It works flawlessly and with various books.
In addition to the ability to access your entire Kindle library, you can adjust the text size, add bookmarks and view notes and highlights. The only drawback is that you need to download your books directly from Amazon and not from your iPhone/iPod touch. Download Kindle for iPhone from the iTunes App Store, or visit www.amazon.com/kindlestore for more information.
Most Recent Comment(s):