The Perfect Keyboard For Gamers

By
.(JavaScript must be enabled to view this email address)
July 26, 2006
|
Share

Del.icio.us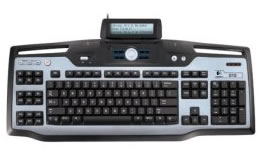 G15
Especially when I'm playing first-person shooter (FPS) games on my PC, I'm extremely particular about how I configure the keys on my keyboard to control my character. I always have the four arrow keys control my directional movement, and other keys control specific weapon selections, reloading or special moves. Needless to say, I'm very picky in general about my keyboard. Now there's a smart keyboard that can remember my unique commands with the touch of one button.
Logitech's G15 Gaming Keyboard is the first in Logitech's G-series and is easily customizable to your beloved game. It was designed for gamers by gamers to provide a high level of programmability and control for the serious PC gamer. But don't let that intimidate you. If you're not a gamer, that's OK. Just think of it as a really cool keyboard on steroids.
One of my favorite aspects of the G15 is the adjustable-tilt and backlit LCD screen. Depending on the game, you can program the screen to show you vital in-game information such as your score, health status, ammunition levels and the leader board. Using it as a regular keyboard, you can see external PC information such as incoming e-mails, instant message alerts, time/date, your connection speed or CPU usage. Note that if you are playing, it can display this without disturbing your game.
The LCD screen can also act as a media control/display so you can see your music track information, control music, playlists and Internet streaming radio. If you need to customize your screen further than that (and are very computer savvy), you can download a publicly available Software Development Kit (SDK) that allows you to create your own application (with Windows and GDI C++ programming) to display your desired information on the LCD screen. Probably not the most recommended thing to do if you're a beginner.
The LCD also folds down to make it easier to transport to next LAN party or competition. But I wouldn't really consider it a very portable keyboard. It's a large-sized keyboard that's easy to type with (as I'm doing with right now). I also had my husband take this to work to use, and he loved it. At home it makes playing World of Warcraft much easier, especially with the G key commands.
The Mode Keys, labeled M1, M2, M3, are located above the 18 G keys. Each Mode represents a different group of settings for the G keys. After programming my keys with macros, with the touch of one button, I can now tell my guys to give me cover fire and within milliseconds of that, push another key and reload my weapon. Oh so convenient! If in case you didn't do the math, there are 54 definable commands with these keys. These keys work fully functional on PCs (with the driver installed) but, on the Mac side, you won't be able to use these specialized keyboard commands.
Call me crazy, but you true gamers know about the all-night gaming sessions. If you're in for one of those, the G15 features blue backlit keys to lead the way on your nightlong adventures. When the backlighting is turned on, a light from underneath the key illuminates the character on top of the key. A button on the keyboard turns on the back-lighting with two possible brightness levels.
The Logitech G15 is available at your nearest CompUSA (or www.compusa.com) for $79.99. Check out more information on the G15 or Logitech's other G-series gaming products at www.logitech.com.
Most Recent Comment(s):