The PodCamp Hawaii 2008 unconference

By
.(JavaScript must be enabled to view this email address)
October 17, 2008
|
Share

Del.icio.us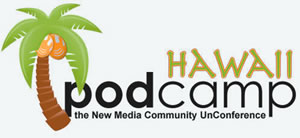 You may remember a column I did about podcasting when it first came out a few years ago. Since then it has become more and more popular, and you can find podcasts all over the place, even on iTunes. I thought seriously about doing a podcast about my column content, plus some extras, but that was scratched since there's no way I can pile another thing on my already heaping-full plate!
But those of you who do have time and want to learn should attend PodCamp Hawaii next week (Oct. 24-25).
PodCamp Hawaii is a free, twoday social media "unconference" event for organizations and individuals interested in podcasting, blogging and creating new media for the Internet. The very first PodCamps and WordCamps were held in 2006, dozens of these successful events have been held around the world since.
Now it's Hawaii's turn. The focus of the unconference is to learn and network with experts from around the world speaking side-by-side with local bloggers and podcasters, and helping Hawaii be the center for tourism and technology. The different learning tracks include podcasting, social media, WordPress blogging and business uses.
"People will be definitely learning how to set up a free blog - it takes about five minutes - as well as where to host your videos for free in addition to YouTube, and be able to see all kinds of different gadgets that are used to create media and tell stories," says Roxanne Darling, co-owner of Bare Feet Studios (http://www.barefeetstudios.com) and Founder of PodCamp + Wordcamp Hawaii.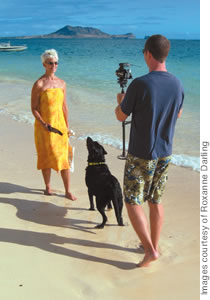 Roxanne Darling, Lexi and Shane Robinson film Darling's daily video podcast Internet show 'Beach Walks with Roz'
The various people you can meet at PodCamp include local and visiting Internet stars who blog or podcast such as Darling herself, who is the host of Beach Walks with Rox (http://www.beachwalks.tv) with her partner Shane Robinson and her cute dog Lexi. Additionally, you can meet your friends and neighbors who want to know more about Web 2.0, visitors from the Mainland and abroad who will be here to sharetheir expertise, and various local and national companies
This unconference will teach you that anyone can do this.
"If you think about it, each of us now has the ability to create our own radio station or TV show - and instead of being local only, it can be global," adds Darling. "The technology is only getting easier and easier, and the costs are almost negligible compared to traditional media."
Most conferences are gatherings with predictable rules and activities. PodCamp Hawaii is just the opposite, where you are invited to attend for free and no one is being paid to speak/teach. The experts attending want to be there because they understand the importance of these events. In addition, there'll be premium attendee packages available for corporate attendees.
"This is an all-volunteer effort; no one gets paid," says Darling. "The team of Kyle Nishioka, Judi Clark and Shane Robinson have really pulled it together for us."
PodCamp Hawaii will be all about outreach - to each other all over the world, and to local technology companies and government agencies. The unconference doesn't have a target audience as a typical conference would. It's relevant to everyone, since podcasting has numerous benefits as a communication tool and holds devotees across many topics and industries.
The unconference will run from 8 a.m. to 5 p.m. each day at the Hawaii Convention Center. Come and enjoy the experience while taking in the sounds of local musicians and hula halau.
For free registration and more information, visit http://www.podcamphawaii.com.
Most Recent Comment(s):