The Remarkable $100 Laptop

By
.(JavaScript must be enabled to view this email address)
September 06, 2006
|
Share

Del.icio.us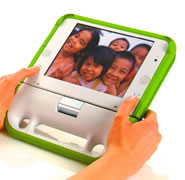 2B1
It's been the buzz for awhile now, but what was fondly known as the $100 laptop was finally given a name - the 2B1. Brought to the world by a nonprofit company called One Laptop Per Child (OLPC), the 2B1 wasn't made for our American consumer market, but was created to bring millions of children in the developing world into the realm of the 21st century. It was designed as a potent learning tool for the world's poorest children living in the most remote environments you can think of.
The 2B1 was collaboratively designed by academic and industry experts, and brought together talent and decades of collective field experience. The result is a unique harmony of form and function - a flexible, ultra low-cost, power efficient, responsive and durable machine with which nations of the emerging world can leapfrog decades of development, thus immediately transforming the content and quality of their children's learning.
This is unlike any laptop you've ever seen before. The 2B1 is not a cost-reduced version of today's laptop. Instead it creates its own mesh network out of the box. Each machine is a full-time wireless router. The children, as well as their teachers and families, in the remotest regions of the globe will be connected to one another, and to the Internet. It features a 7.5-inch, 1200x900 pixel, TFT screen and self-refreshing display with a 200 dpi resolution. That's actually a higher resolution than 95 percent of the laptops on the market today. Two display modes are available: a transmissive full-color mode, and a reflective, high-resolution mode that is readable in the sunlight. Both of these modes consume minimal power. The transmissive mode consumes only one watt (about one-seventh of the average LCD power consumption in a laptop), and the reflective mode consumes a measly 0.2 watts.
You can selectively suspend the operation of its CPU, which makes possible further remarkable power savings. The laptop nominally consumes less than 2 watts (less than 1/10th of what a standard laptop uses). The power consumption is so small that it can be recharged by human power -
critical advance for folks who do not have access to electricity. Each machine features a video/still camera, internal speakers (with a stereo line-out jack), built-in microphone, three external USB 2.0 ports and an SD slot.
The laptop's core electronics include a 400MHz AMD Geode processor with 128MB of SLC NAND flash memory on board (no hard drive). The basic operating system is essentially Linux - a "skinny" Fedora distribution of it. The user interface is designed to support collaborative learning and teaching.
Every activity comes with a support network of teachers and children, so it's not so lonely for the child.
It is considered an open-source machine, and the free software gives children the opportunity to fully control the machine. Open document formats are used - the children and their teachers will have the freedom to reshape, reinvent and reapply their software, hardware and content. Keeping size in mind, the 2B1 was kept small, about as tiny as a textbook, and lighter than a lunchbox. It has a "transformer" hinge, and easily changes positions into standard laptop use, e-book reading or gaming. It has soft, rounded edges, and the integrated handle is "kid-sized," as is the sealed, rubber membrane keyboard. The novel, dual-mode, extra-wide touchpad supports pointing in addition to drawing and writing. Its distinctive appearance is meant to discourage any gray-market traffic, since there's no mistaking what it is, and who it's made for.
Although the laptop is referred to as the $100 laptop, the price is expected to actually be about $135, and available early next year. By the time we reach 2010, the prices will most likely drop to about $50. So far, an order of 1 million came in from the Nigerian government, and another 1 million from Thailand. The 2 million ordered are just enough to give the program a kick-start.
Visit http://www.laptop.org for more information about the program. If you would like to make a pledge for this cause, go to http://www.pledgebank.com/100laptop. Pledges are being accepted through Oct. 31, 2006.
Most Recent Comment(s):