The Roku Channel Store Opens

By
.(JavaScript must be enabled to view this email address)
December 02, 2009
|
Share

Del.icio.us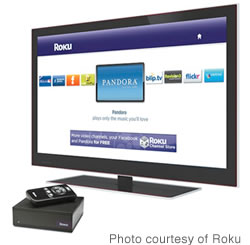 The Roku player has come a long way since its initial launch with Netflix last year. When the latest Roku player, the HD-XR box, was released last month, many new features were promised, and now the Roku Channel Store has its first 10 free channels. The channels include Pandora, Facebook Photos, Revision3, Mediafly, TWiT, blip.tv, Flickr, FrameChannel, Motionbox and MobileTribe. These are in addition to the already existing Netflix, Amazon Video on Demand and MLB.com.
"The Roku Channel Store turns the Roku player into the world's first open platform designed specifically for the TV," says Anthony Wood, founder and CEO of Roku Inc. "Now content producers and distributors - from single person shops to billion-dollar corporations - can deliver their content directly to consumers without having to go exclusively through cable operators, satellite networks or TV affiliates."
From Internet radio, video podcasts to professional Web content and photo sharing, this Roku Channel Store provides an open platform for delivering quality content to your TV. The first 10 channels are just the beginning for Roku as many other developers are working on additional Roku Channels. I'm a little disappointed that Hulu wasn't a part of these first channels, but there are rumors that it could become available soon.
The Roku Channel Store is an automatic and free upgrade for you existing Roku customers. All three Roku players (Roku SD, Roku HD and Roku HDXR) are available at http://www.roku.com, starting at $79.99 (free shipping). Check out http://www.roku.com/roku-channel-store for complete details on the channels.
On a different but slightly similar note, you can now watch Netflix movies/TV shows off your PlayStation 3 (PS3) at no additional cost. This is enabled by an instant streaming Blu-ray disk that is sent to you by Netflix - request one at http://www.netflix.com/ps3. It took two days for mine to arrive.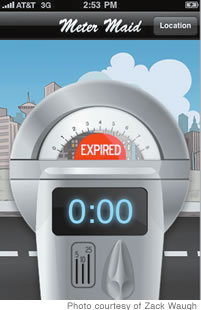 Although I've been waiting for Netflix to come to the PS3 for a long time, I'm not too happy that I need to have that disk in my PS3 whenever I want to watch something. I can watch Netflix just fine off my Xbox 360 (with no disk), including the ability to add things to my queue. I hope this will be refined soon, but at least there are more options to view Netflix now.
Click Chick's iPhone App of the Week: Meter Maid
I admit I received a parking ticket a couple months ago by not feeding the parking meter - oh, come on, it was a weekend in the middle of a quiet parking lot in Kailua. I never thought the meter maids would be working. I was wrong.
When I saw this Meter Maid app, it sort of reminded me of what happened, and I thought this would be perfect for the forgetful meter feeder. This app allows you to set how much time is on your parking meter and receive a push notification before it expires, even if the app isn't running.
Meter Maid lets you save the GPS location of where you parked so you can always find your car, and a large display shows how much time you have remaining. You can see your current location on a map and obtain directions back to your car, and set your meter time up to eight hours. Find this for 99 cents at the iTunes App Store.
Most Recent Comment(s):