The sharp new RAZR2 is on its way

By
.(JavaScript must be enabled to view this email address)
August 17, 2007
|
Share

Del.icio.us
Now that the hype of Apple's iPhone is kind of dying down, Motorola just threw its highly anticipated RAZR2 into the mobile phone world mix. Three phones are included in this family -the V8, V9 and V9m. Each is designed to work specifically with its designated network.
All three feature a 2.2-inch external touch-screen and a 2.0-inch internal display big enough for full HTML web browsing. The external screen enables you to view media, music and messaging without flipping your phone open. The phone's Bluetooth 1.2 capability allows you to listen to your music wirelessly (with a Bluetooth headset), and the CrystalTalk feature innovatively adjusts the audio to help ensure you have clear calls even in a noisy environment. Your caller ID will put a face to your callers, and as your phone is ringing, it can tell you who is calling. It can also read your text messages to you or your menu items out loud - perfect if you're multi-tasking or driving (um, not that you should be using your phone while you're driving).
"The Motorola RAZR2 delivers the sharpest mobile experiences available - and customers of every national carrier in the U.S. can now own one," said Stu Reed, executive vice president, Motorola Inc. and president, Mobile Devices Business. "With smart features available such as blazing-fast 3G wireless broadband, and modern style that's slimmer and stronger than the original, the Motorola RAZR2 is the ultimate iconic feature phone."
Here's a look at the three new Vs:

Razr 2 V8

Razr 2 V9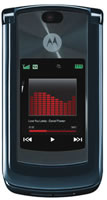 Razr 2 V9m
* V8: This is the GSM version and will work with T-Mobile. It has 2GB of built-in memory, and the integrated camera gives you a resolution of 2.0 megapixels with a 8x zoom, and MPEG4 video capture and playback. The browser gives you full HTML capability, and you can sync your e-mail, phonebook and calendar over the air with MotoSync. You'll receive about 500 minutes of talk time or 280 hours standby time.
* V9: You'll find this with AT&T since it's the 3G HSDPA (3rd Generation High-Speed Downlink Packet Access), giving you 3.6 Mbps wireless broadband connection. As with the V8, it has the same-sized internal and external screens, along with the same camera capability. It comes with 2GB of built-in memory with an optional microSD card to expand it an additional 2GB.
* V9m: This the CDMA version, usable on the Sprint and Verizon networks. As with the V9, you can have up to 2GB additional storage space with a microSD card, and the same 2.0 megapixel camera, but with only a 4x digital zoom. The video capability supports MPEG4, H.263 and H.264.
These phones may not be iPhones, but they're very thin and compact with some touch-screen capability. Not bad for a little guy. It seems the average price for one of these RAZR2s will be between $250 and $300, depending on the wireless provider. These have not officially hit the market yet, but check with your carrier within the next couple of weeks for availability.
In the meantime, visit www.motorola.com/2 for more information on the phones and enter to win a 300 MOTOROKR S9 Bluetooth headset to listen to all your favorite tunes on your future RAZR2.
Most Recent Comment(s):