The watch that's a weather station and compass

By
.(JavaScript must be enabled to view this email address)
February 09, 2007
|
Share

Del.icio.us
Another thing that caught my attention at the Consumer Electronics Show (CES) this year was Casio's new line of watches, particularly the latest Pathfinder series. Although the watch I received was cool, it's more of a guy's watch, so I asked my husband to do the "difficult job" of wearing it and playing around with it for a week.
Casio makes various Pathfinder watches, but the one we reviewed was the PAW1300-3V (with the green wristband). I call it the BDU watch, since it matches my green Air Force BDUs (Battle Dress Uniform) that I proudly wear every day. I'm disappointed that one of the best features of the watch, atomic timekeeping, does not work here in Hawaii. Atomic timekeeping is designed to pick up the time calibration signal transmitted in Germany (Mainflingen), England (Rugby), United States (Fort Collins) and two points in Japan (Fukushima and Kyushu). It receives the time calibration signal automatically from the applicable transmitter and updates the settings accordingly. If you're on the Mainland or elsewhere closer to one of the stations, you'll have better luck, but I guess since we're in the middle of the Pacific Ocean, you can't see any of them from here.
Otherwise, I love that it runs on a solar battery so you don't ever have to worry about changing your battery. Whenever you go out in the light (either natural sunlight or the lights in your home/office) it will automatically charge. On a full charge your watch will keep your time for up to five months. If you happen to store it in a dark place, the power-saving function will kick in and the watch will slip into sleep mode to conserve power and energy.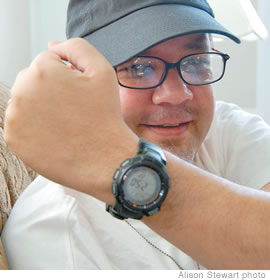 Alan Stewart with Titanium Pathfinder 1100
If you find yourself in the dark, with the flick of your wrist the watch's face lights up with its electro-luminescent (EL) panel. It's useful at a boring movie when you're dying to know what time it is without having to squint your eyes in the darkness. Note that this auto light is disabled during any sensor measurement, while an alarm sounds or when the watch is receiving any information.
The Pathfinder's compass will keep you from getting lost and guide your path straight. You'll see a direction indicator, angle value along with the four direction pointers. It will also let you know how high you are with the built-in altimeter. It detects the air pressure around you and estimates the altitude. The highest we took our Pathfinder was to the plains of Kunia, and it measured in at 218 feet.
When the weather takes a turn, your Pathfinder will sense it before you do. It monitors the changes in the atmosphere to calculate the barometric pressure. It measures for this every two hours and produces a graph and differential pointer readings. You can see temperature readings off your watch too. As long as you take it off your wrist and keep it away from direct sunlight and moisture while you're taking a reading, it will give you the accurate temperature.
The built-in thermometer automatically checks the temperature every five minutes.
The more advanced Pathfinders can predict the tides (Tidegraph), have depth gauges, or for the advanced diver, a diving log (stores up to 60 log memories).
Check out www.casio.com to check out all of Casio's new Pathfinders and find a retailer. Prices range from $199 to $550.
Most Recent Comment(s):