The world's first OLED wireless frame

By
.(JavaScript must be enabled to view this email address)
February 06, 2009
|
Share

Del.icio.us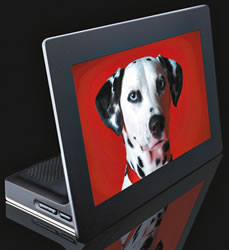 There were countless digital picture frames at this year's Consumer Electronics Show (CES), just as last year.
But this time only one stood out: Kodak's Organic Light Emitting Diode (OLED) frame. This is the world's first consumer-available wireless picture frame using OLED technology. It allows deeper color depth and saturation with an extremely thin, low-profile design. While an OLED is probably too small these days for a full-blown TV, it's perfect for a high-end picture frame.
In early 2008, Kodak received the 2008 OLED Technology Display Leadership Award for the frame's development.
"Kodak is a worldwide market and technology leader in digital picture frames, and OLED technology was created by Kodak, making us uniquely positioned to bring the benefits of OLED to consumers," says Pete Jameson, general manager, Digital Devices Group, Eastman Kodak Company. "We're tremendously proud to introduce this exciting new picture frame."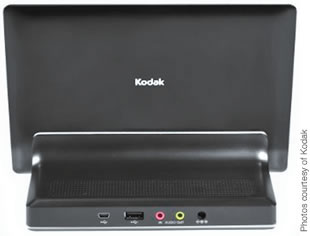 Kodak's OLED frame features an ultra-thin 7.6-inch display (with an 180-degree viewing angle), enhanced by Kodak Perfect Touch Technology, which automatically processes your images to improve exposure, brightness and color. Its built-in Wi-Fi enables you to display pictures and videos that are stored on your computer elsewhere in the house. Stream your pictures from Flickr, Kodak Gallery or FrameChannel, or you even can upload pictures directly to the frame using Wi-Fi.
The frame can store up to 10,000 images using the 2GB of built-in internal memory (depending on how big each picture is). If that's not enough, there's a USB port and a built-in memory card reader. The aspect ratio is 16:9, resolution is 800x480, and the white to black ratio is >30,000:1. The frame requires no backlighting, and it incorporates an ambient light sensor that optimizes your viewing experience by adjusting the display brightness based on the frame's surrounding light.
Unfortunately, OLED is not cheap; it retails for $999. Find it at Amazon.com or Best Buy (www.bestbuy.com, online store only). Unfortunately, there aren't any available on-island that I know about.

Click Chick's App of the Week: iFu Kung Fu
Hawaii's own Oceanit Laboratories recently unveiled iFu Kung Fu. This is the company's first iPhone app, and according to marketing manager Ian Kitajima, it began as a summer intern project to develop something in two weeks. Apparently it was successful through trial and effort, and it was out the door at the end of December. Right now it averages about 500 downloads a day.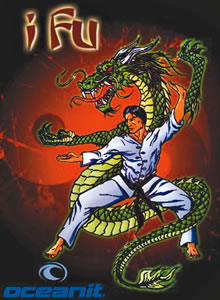 iFu reminds me of the PhoneSaber app that plays lightsaber sounds from Star Wars. You'll hear "Hiiiiyaaah!" or "Waaaaahhh!" sounds that pay homage to the good ol' kung fu movies of yesterday. As you move your iPhone, you'll hear those sounds, including the impact of body blows, flying kicks and the swinging of nunchucks. If you're using an iPod touch, you may want to plug in your earphones or hook it up to external speakers so you can hear the sound effects.
In addition, you'll also see various graphical bursts (as you would see on the old Batman TV shows) as the impacts are made. It's apparent when you die: The screen turns red, and you'll hear the voice fade out.
This fun, locally made app is free from the iTunes App Store!
Most Recent Comment(s):