The World's Smallest Camcorder

By
.(JavaScript must be enabled to view this email address)
September 23, 2009
|
Share

Del.icio.us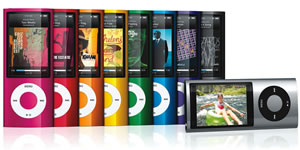 Of the all the announcements from Apple in the last couple weeks, the new iPod nano is hands-down the best one. The capability of this new nano reminds me of the compact Flip Mino camera I reviewed a little over a year ago - but it's much smaller, and has a greater space capacity and more functionality. Not only did they add a video camera to it, there's a built-in FM radio with live pause, iTunes Tagging and a pedometer. If you were following the rumor mills, sorry, disappointingly, there's no iPod touch with a camera yet.
"iPod nano is the world's most popular music player with over 100 million sold," said Steve Jobs, Apple's CEO. "And now we've added a video camera to its incredibly thin design, without any additional cost to the user."
This new nano is exactly the same size as the previous one: 3.6 x 1.5 x 0.2 inches. It has a microphone the size of a pinhole and a speaker perfect for on-the-go footage for your blog or Facebook page, or if you're traveling and don't want to lug around a huge video camera. The 2.2-inch screen makes it fairly easy to see your images. There are various video effects you can do for fun - black and white, X-ray, thermal, security cam, cyborg, sepia and more. Sadly, its camera does not take still pictures, only video. The speaker isn't anything special, but good enough for you to play back your videos or audio if your ears are near it.
A few drawbacks on the camera piece: The video quality isn't as good as a regular camcorder, but it's certainly better than a typical cell phone. The nano's video produces standard definition (no HD capability) and there is no image stabilization, so you'll need to have a steady hand to keep your footage looking good.
As far as the FM radio, Apple is a little late on this capability compared to other music players. I wish the iPhone had this too. Your headphones act as the FM antenna and you can pause live radio for up to 15 minutes by pushing "play" after a phone call. Your music/show then continues right from where you paused it. Theoretically, you can tag songs as you're listening (to later purchase in iTunes), but so far Clear Channel radio stations are the only ones that transmit this special iTunes tag to make it work.
In addition, the pedometer counts your steps and counts your burned calories. It's supposed to help you meet your fitness goals. You can also upload your workout data to the iPod+Nike website for complete analysis and/or to compete against others.
The new iPod nano retails for $149/8GB (2,000 songs or eight hours of video), or double your capacity for just a little bit more $179/16GB (4,000 songs or 16 hours of video). Available colors include silver, black, purple, blue, green, orange, pink, and PRODUCT RED and yellow online only. Find the new nano at your nearest Apple Store (apple.com) or Mac Made Easy in Kailua (maceasy.com).
Other Apple updates include a new iTunes (iTunes 9), an updated iPod shuffle price ($59) and an iPod touch lineup geared more towards games.
Most Recent Comment(s):