Those gabby guys and starry skies

By
.(JavaScript must be enabled to view this email address)
June 29, 2007
|
Share

Del.icio.us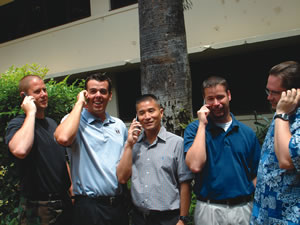 Based on pure stereotyping and my own personal cell phone use, I would guess that females talk more on their cell phones than guys do. I know I definitely talk more on my cell phone than the average guy, mostly because I do not have a home phone and use my cell phone for all my gabbing - business and personal. According to the results of a recent survey just conducted by AT&T, this whole stereotype is thrown out the door - just barely.
The survey was done on a little more than 1,000 random users (50 percent men and 50 percent women), and the men average 458 minutes of monthly phone use, while the women average 453 minutes. The largest historical gaps since this survey's inception in 2001 was in 2002 when men averaged 589 minutes and women only 394 minutes. Also, in 2005 men averaged 571 minutes and women only 424 minutes.
Additionally, the survey results indicate that 45 percent of wireless subscribers use the text messaging features on their device, 44 percent use the camera, 17 percent play games and 11 percent access their e-mail. Women use the gaming, camera and text messaging features more frequently and men use their device for wireless e-mail and accessing the Internet more frequently than the women.
Overall, both men and women continue to use their cell phones more than home phones on average (455 minutes compared with 394 minutes) - a trend that began in 2005. Unlike me, women usually spend more time on their home phones than men. Women talk for 532 minutes a month compared with only 237 minutes for men. The survey also revealed that women use the wireless phones more than men to talk to friends and family, but men use theirs for business conversations.
That's just some food for thought the next time you pick up your cell phone. I thought it was interesting, especially since I figured the women would be talking on their phones more than the men. Gals, tell that to your man the next time you're accused of talking on the phone too much!

Twilight Turtle - Snuggling With A Planetarium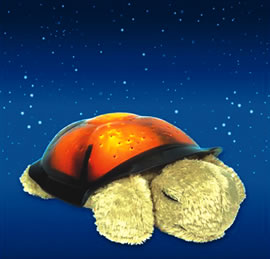 When I was kid I always slept with a night light on in the room, but I never had anything like this - a stuffed animal that can project the stars up on the wall or ceiling. It would have been so cool to have this as a kid. Our keiki can be so spoiled with this type of stuff these days, but you can't deny this to a little one, it's such a cute (and useful) little thing.
Not only is this adorable stuffed animal a turtle, he's a portable planetarium that you can snuggle with (plush body, hard shell). He displays the sky, including eight constellations, from a projector within his plastic shell. A timeout feature automatically shuts his shell off after 45 minutes so you don't have to worry about wasting the batteries. By then, hopefully your little one is fast asleep.
Obviously this is not your average plush toy. It comes in different shell colors: blue, green or amber. The constellations can be projected in white, green or blue. These were chosen for their relaxing, rejuvenating and calming qualities, so everyone can enjoy it. This is a great relaxing resource to teach your keiki about the stars when you're not outside.
You can find the Twilight Turtle for $31.99 at http://www.amazon.com. You'll need three AAA batteries (included) for operation, and it's recommended for children ages 3 and up. It also comes with a guide to help you recognize the constellations.
Most Recent Comment(s):