Through A High-tech Doggie Door

By
.(JavaScript must be enabled to view this email address)
August 06, 2008
|
Share

Del.icio.us
If I had a dog, there's an almost 100-percent guarantee I would have already installed this new Plexidor Electronic to let him in/out. The door reads the keycode on the RFID chip that you place on your little guy's collar (as a collar key) and slides open as a mini garage door. Think of it as high-tech Star Trek-type door that moves upward instead of sideways. Your pet doesn't have to push any button to open the door - it recognizes the chip and opens automatically.
Plexidor Electronic is the latest product for the Plexidor company, which has been in the pet-door business for more than 23 years.
"Having a technological tool like this is great for the health and comfort of the pet, too," says Plexidor president Joe Ambrose. "It allows the pets to go outside when they have to, not when you are able to let them out. For the pet owner, it is very helpful in preventing pet messes in the house from the pet having to hold it too long."
The door is 1 5/8 inches thick and runs off your household current, and can either be plugged into an outlet or hardwired for power. It's made of durable steel and has a hardened aluminum frame with a thick acrylic closing panel. Since the doors are made this way, you won't see any unsightly rust streaks left on your house. Additionally, the aluminum framing is the same material used in football helmets. It's shatter-resistant and it will not interfere with your home security system.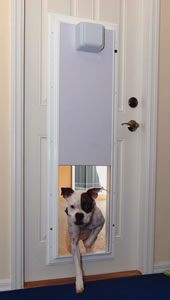 Plexidor's collar key snaps on and stays on your pet's collar securely. You can add or change the collar codes quickly with one-touch programming, but it comes preprogrammed. The RFID tag is waterproof, shockproof, battery-free, works with underground fencing, holds a secure fit, works with thousands of keycodes and, most importantly, durable. Your doggie is the only one that has the opener code. Its technology is passive, requires no batteries and allows you to have as many of your pets use the door as you want without having to worry about wild animals or your neighbors' pets coming into your house.
As far as safety goes, the Plexidor Electronic will not close if it has an obstruction, which means no pinched tails or fingers - it's pooch proof! It doesn't have any gaps for air infiltration, which saves money. Plus, I know we live in Hawaii, but just in case you move or recommend this to someone in another geographic location, the interior-mounted motor will not freeze up in cold weather.
The Plexidor Electronic Pet Door comes in white and bronze, and various sizes to suit your pet. Each set comes with a pet door, exterior trim, stainless steel hardware, two collar keys and a power supply with a 15-foot cord. Prices range from $129 to $800, depending on the model/size.
You can order at www.dogdoors.com or call 800-749-9609.
Most Recent Comment(s):