tikitag your tech world

By
.(JavaScript must be enabled to view this email address)
September 26, 2008
|
Share

Del.icio.us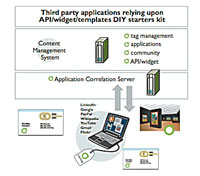 The day is coming when it'll be common to swipe our cell phones (or other electronic devices) at objects and see detailed information appear instantly on the screen.
Taking that step forward, earlier this month Alcatel-Lucent announced the debut of tikitag, a service that allows consumers and third-party application developers to connect everyday items to online content. tikitag uses the Near Field Communications (NFC) technology, an evolution of Radio Frequency Identification (RFID) that connects electronic devices over short distances (four inches). It was primarily designed for cell phones and combines the interface of a smartcard and a reader into a single device that communicates with these device as well as other NFC-enabled gadgets. This makes it a perfect match in places with existing contactless infrastructures already in use for public transportation and payment.
According to Strategy Analytics, the market for NFC is expected to grow significantly in the coming years, and that by 2012 around 250 million NFC-enabled phones will be sold worldwide.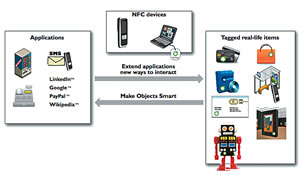 "Over the last few years there has been explosive growth in the range and types of online content - much of it related to real-world objects, events or activities," says Anthony Belpaire, general manager of Alcatel-Lucent's tikitag venture.
"But how do you connect this online content with a person's business card, for example, or a concert poster, or a work of art, etc.? tikitag provides this missing link."
This tikitag service enables you to launch an online application by simply touching an NFC device, such as a cell phone, to an item that's tagged with an NFC chip. It can be used in a variety of environments. At home it can be used to link your keiki's toy to the toy's online world. In an outdoor setting, tikitag makes it possible for you, as a museum visitor, to wave your NFC-enabled cell phone at an exhibit and see a Wikipedia profile or other webpage about it appear on your phone's screen.
In a business setting, a cleaning company can use it to record that a room has been cleaned by a simple touch of an NFC-enabled cell phone to a tikitag-linked NFC tag placed in the room.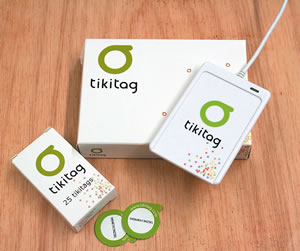 As of Oct. 1, you can begin using tikitag by purchasing the starter kit for $49.95. It includes one USB-enabled NFC reader, 10 NFC tags and access to the tikitag community website. Here you can create and share new and off-the-shelf tikitag applications. The initial applications available for download include the ability to link tags to URLs (i.e. Amazon, Google, PayPal, Wikipedia, YouTube, Flickr, LinkedIn).
The core of the tikitag service is the tikitag Application Correlation Server (ACS), which manages the link between an NFC tag and a corresponding action to be initiated. When an NFC-enabled device (PC, Mac, cell phone) touches the tag, it auto-matically connects with the tikitag ACS. The ACS then directs the Internet-enabled device to access the corresponding online content and applications.
So far $3.6 billion has been spent in research and development in 14 countries, and 25,000 patents have been secured, probably with more to come. The initial tikitag offering is targeted toward you web-literate and technology creative folks. If you are willing and able to take advantage of this opportunity, check out www.tikitag.com to purchase the starter kit in a few days.
Most Recent Comment(s):