Time Crisis: Razing Storm On The Move

By
.(JavaScript must be enabled to view this email address)
December 08, 2010
|
Share

Del.icio.us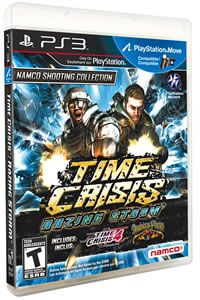 A visit to the arcade isn't complete for me without stopping to play a good round of Time Crisis. For those of you unfamiliar with this game, it's an interactive first-person shooter and you use a light gun to fire at your enemies.
Namco Bandai recently released the latest in the series, Time Crisis: Razing Storm, and this is by far the most intuitive point-and-shoot experience with the PlayStation Move for the PlayStation 3. Plus, the PlayStation Move gun attachment is well-worth the extra 20 bucks to enhance your Time Crisis experience.
In Razing Storm, civil unrest and terrorism plague the world as an influential and dangerous international military organization decides to declare war against the United States. The government deploys an elite task force to South America for the purpose of capturing the mastermind behind this conflict. The future of the free world depends on these special operatives. The warlord must be stopped before it's too late!
The Arcade Mode provides a nice coin-operated adaptation as you experience the adrenaline rush of defeating a chaotic onslaught of enemies. As with the true arcade experience, a friend can drop in and out at anytime during the action.
In Story Mode, you can freely move about the stages as a member of the elite Delta Team. With an arsenal of weapons at your disposal, you can navigate through different areas and silence anyone or anything that stands in your path. You also can strategically take cover behind objects, as well as lock onto enemies with the new Auto Lock function. Note that you can only take cover in certain spots, and it's done by pointing the Move controller straight up. To pop out of the cover, point the Move at the screen. Sometimes the game loses track of where you are, so you'll end up staring frustratingly at the ceiling.
I suggest you always play this game with someone. It can be kind of boring by yourself. Plus, it's more engaging and satisfying to cooperate with, compete with or steal kills from your buddy. Do play Razing Storm with your PlayStation Move, if you have one. Trying to play this game with the regular PS3 controller is a pain.
Playing online is better than playing offline as it provides increased difficulty from actual human opponents. It's also the perfect game for busy new moms like me, or if you just don't have a lot of time to invest in a video game. You can just pick up and go with it for quick thrills.
Time Crisis: Razing Storm retails for $59.99 and you can find it at your nearest Best Buy (bestbuy.com) or online at Amazon.com.

Click Chick's Mobile App of the Week:: MiMedia
MiMedia is a service that enables you to backup and instantly access your photos, videos and other files via the Web no matter where you are. In addition, an iPhone/iPad app was just released that allows you to access your MiMedia account from your iPhone/iPad.
The enhanced features on the app include a new landing page with navigation choices for photos, videos and music, increased sorting options (by artist and album), and secure upload of photos and videos from the iPhone.
To sign up for a MiMedia account, visit MiMedia.com. Monthly and annual options are offered, starting at $5 per month or $50 per year for 25GB storage. Unfortunately, you can only use MiMedia on PCs, but a Mac version is in development.
The iPhone/iPad app is free from the iTunes App Store, and also is available for your BlackBerry or Android phones.
Correction: MiMedia does not yet have apps for BlackBerry and Android, but they are currently in development. Sorry for the misinformation.

Most Recent Comment(s):